HISTORY OF SCIENCE - WEST
I. ANCIENT GREEKS/ROMANS
PHYSICAL WORLD
water clock: cone filled with water
inverted water clock into water with finger on end - no new water enters, suggests that air is material
helped "atomists" explain properties of materials in terms of unseen particles
propose 4 unchanging substances, earth, air, fire, and water which are roots of all things
two basic forces, love and hate (i.e. attraction vs repulsion) combine all roots
different substances formed by roots combined in different proportions
all material composed of individual atoms
atoms in random perpetual motion in void
atoms of different shapes arranged themselves with others to form matter
intuitive, non-experimental, non-empirical understanding
discovered all 5 regular polyhedra which are composed of regular polygons:
tetrahedron (4 triangles), cube (6 squares), octahedron (8 triangles), dodecahedron (12 pentagons) and icosohedron (20 triangles)
identified with 4 elements of Empedocles
tetra - fire (sharp), cube - earth, octa - air, .icosohedron - water (smooth), [12 sided dodecahedron associated with zodiac]
some elements interconvertible (in contrast to Empedocles)
ex. Water (20 triangles) = fire (4 triangles) + air (2- 8 triangles)
Earth (cube) not convertible
did not see mechanical causes for natural phenomena; all ordered by divine intelligence to produce best world
ARISTOTLE - around 350 BC. most famous Greek scientific philosopher, with an influence that lasted 2000 yr.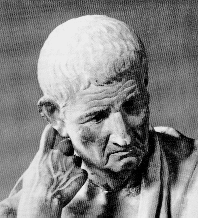 ELEMENTS:
developed Empedocles 4 elements - roots
everything composed of primary matter, impressed with form; only form changes
simples combo of matter and form = elements
4 elements, with 4 quantities (air-fire: hot; fire-earth: dry; earth-water: wet; water-: air: moist)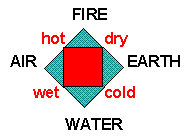 all substances combo of 4 (ex: burn wood, fir, water, air -smoke, and earth -ash remains)
1 element in principle could be converted into another by addition or subtraction
added fifth element, aether, that filled heaven, its motion being perfect
PHYSICS/MOTION
Motion explain as elements going to their natural place
reject atomists view, since criticize both motion and void
- random motion not ideal
- reject void: believed velocity of fall proportional to weight; velocity retarded by resistance of medium. If void, speed must be infinite
ZOOLOGY - (sounder ideas)
classified living things on basis of increasing complexity: plant to sponges-jellyfish to mammals to human
no concept of evolution; imagined all species unchanging
living things had soul; nonliving hand none
humans most highly developed soul
ASTRONOMY
universe spherical, earth fixed at center
sun, planets, stars held in clear, crystalline spheres surrounding the earth
his cosmology became part of church doctrine
II. CHALLENGES TO ANCIENT KNOWLEDGE -
SCIENTIFIC EVOLUTION/ REVOLUTION
ASTRONOMY/PHYSICS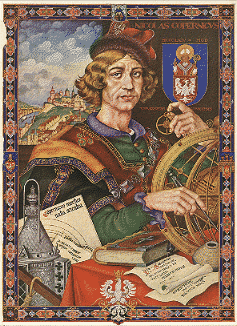 revolution in ideas - turning point our conception of universe and our place in it
revolution in understanding of astronomy
Published "De Revolutionibus Orbium Coelestium" (on the Revolution of Celestial Spheres), 1543 just before his death; completed 1530.
Replaced geocentric view with stationary earth at center of universe surrounded by concentric rotating spheres with the heliocentric view with sun at center, and planets in concentric solid crystalline spheres which move around the sun; earth rotates daily
In reality just transformed Greek idea of earth-centered spheres into sun- centered ones.
Attacked Ptolemey not because of geocentric view, but also since Ptolemey had abandoned uniform circular motion or combination of motion; return to old Greek ideas.
De Revolutionibus written as astronomy treatise, not philosophical statement
His mathematic analysis did not lead to better or easier predictions than the Ptolemic system, and hence was not accepted by most astronomers.
Suffered from lack of his own observations, and acceptance of observations of others.
Main contributions to astronomy: improve methodology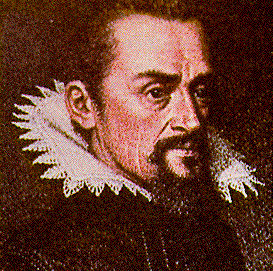 start new astronomical system which is accepted today - that planets move in elliptical orbits around the sun with sun as one of foci. Before him all celestial motion based on the perfect circles. Motion was also not uniform, in that when planets closest to sun they move faster than when distant from the sun.
still, however believed in astrology and number mysticism - relationship between 5 known planets (Mercury, Venus, Mars, Jupiter and Saturn and the Platonic 5 polyhedra.
in 1609 publish "Astronomia Nova: Physica Coelesti", replacing Aristotle's metaphysics (or celestial theology) with celestial physics
explain planetary motions by celestial forces causing them, unlike predecessors or contemporaries, including Galileo. Thought source of force was sun-centered
new set of principles of motion. Physical objects lifeless, without internal force, which caused property of inertness, which he called inertia. Can't put body in motion by itself or keep it moving, but rather it needs mover; body comes to rest when force stops - This was against 2000 years of Aristotelian ideas of motion ceasing when come to natural place
Therefore, space same throughout, no natural places; sun-directed forces, decreases as distance
Astronomers at time didn't full accept his ideas (believed vortices of Descartes). Also people (including Galileo) opposed idea of celestial solar force extending through millions of miles of space .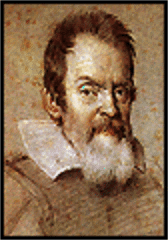 first and foremost in advancing experimental science
wrote books in vernacular which were widely translated
revolutionary activities in 4 fields:
TELESCOPIC ASTRONOMY
show moon like earth; Jupiter had 4 moons; sunspots - showed people for first time what heavens looks like, which consistent with idea that earth was just another planet;
observations support and he argued vociferously for Copernican view.
PRINCIPLES AND LAWS OF MOTION
bodies of equal weight fall at same speed not in proportion to their weight (like Aristotle believed)
body in free-fall is uniformly accelerated - i.e. its speed increases with time, its distance from start increases with the square of time.
In analyzing motion can break it down into components in the horizontal and vertical directions (i.e. used vectors)
solved trajectory of projectiles.
However, he made no attempt to find forces or math. relationship between force and motion. Scoffed at Kepler for celestial force
RELATE MATH TO EXPERIENCE
State falling object increase in speed is same for each increment of time (i.e. accelerates at constant rate). Then developed math. rules to explain acceleration used by nature, then verified with experiment.
his laws of uniform motion, accelerated motion, and projectile motion all mathematical.
EXPERIMENTAL SCIENCE
unprecedented in use of experiment to verify physical laws
used math not just to quantitate, not in a Platonic way (in which truths of universe revealed by math without experiment). But in a way which relates math and experience through experimentation and observations.
designed experiments to test simple hypothesis, often by varying on parameter at a time. For example, it was hard to accurately determine the velocity and distance traveled by a falling body. He hypothesized that he could "dilute" gravity by forming experiments on inclined planes, and break the velocity and distance into a downward component (which would describe free fall) and a horizontal component.
his combination of experimental technique and mathematical analysis made him one of prime founder in the scientific method.
He wrote: "sensate experiences and necessary demonstrations have precedence not only over philosophical but also theological dogmas
BACON - 1561-1626

not scientist but contributor to the scientific method as philosopher of science
advocate new way of investigating nature
- new classification of science
- thought practical applications of science improve quality of life
- envisaged scientific communities.
believed in induction coupled with extensive experimentation (i.e. form generalizations from specific examples)
thought pure deductive logic never increase knowledge
said that single negative instance can falsify an induction, but every positive instance can strengthen a belief but not prove it. Therefore laws of nature not verifiable.
science develop by compiling vast tables of factual data obtained through observation and experiment - (Meteorology one field that has developed along Baconian lines)
wrote "Novum organicum", describing ideas. More philosophy than science.
failed to recognize role of math and that real growth conceptual and theoretical.

philosopher, scientist, mathematician, Father of modern philosophy
believed true science would advance medicine and technical arts; would be a utility to life and allow one to master nature.
creator of new kind of science, based on math. Systematized analytic geometry; introduced x and y for unknowns. Introduced indices as x squared
Wrote Discourse on Method: For the Correct Use of Reason and For Seeking Truth in Sciences. Written in vernacular.
Science and philosophy lead to knowledge; Used metaphor of tree: roots for metaphysics, trunk for physics, branches for topics like medicine, mechanics.
Science based on experimentation and observation, and also rationalist
Resolve more complicated problems into simpler one. All experiences reduce to simple principles. In extreme: all actions reduced to principles of matter and motion. Lead to his mechanical philosophy
applied rational deductive methods of science and math to philosophy.
argued that greatest principle of common sense: "All things which we cleanly and instinctively conceive are true".
From I think, therefore I am (cogito ergo sum) (i.e. an intuition), that a consciousness of his own thinking proved his existence, he argued for existence of God.
God made two classes of substances:
- thinking substances or minds and
- extended substances or body
part of blood was a fluid called animal spirit, that came into contact with thinking substances in brain, and flowed over channels of nerves to animate muscles.
Wanted to sweep away all ancient knowledge
Made many erroneous explanations of physical phenomena, but he substituted mechanical interpretations of physical phenomena for vague spirits
Believed in Copernican theory but not crystalline spheres. He thought space filled with matter (aether). Planets held in place by swirling vortices of aether.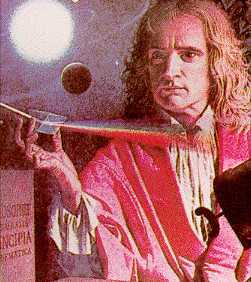 recognized by peers for his revolutionary efforts in the development of the calculus and for the science of mechanics, which he published in his epic work, "Philosophiae Naturalis Principia Mathematics" or just Principia (1687).
contributed to many fields including mathematics, dynamics, optics. Invented modern concept of mass, law of universal gravitation, gravitational theory of tides.
IDEAS IN PRINCIPIA
Falsified the following ideas:
- Kepler's idea that the solar force is inversely proportional to r, the distance to the sun
- Descartes' idea that the planets are carried around in a sea of aether moving in huge vortices and that a vacuum does not exist
- Galileo's idea that the acceleration due to gravity is constant at any distance, even out to the moon.
Proposed three laws of motion which codified the principles of dynamics:
- inertia: body stay at rest or in uniform motion in a straight line unless an external forces is present. Opposed Kepler's idea that a body will stop when the external moving force is moved
- continuous external forces produces a change in velocity (or momentum)
- for every reaction there is an opposite and equal reaction
showed significance of Kepler's 3 laws of planetary motion
showed that bodies of unequal weight fall at same rate
Newtonian system of universe regulated by gravitational force which on earth causes weight. First person to distinguish between mass and weight.
- mass measure of body's resistance to change of motion or rest
- weight measure of response of mass to gravity
new style in mathematical analysis of nature; starts with mathematical ideas or simple models, such as single point of mass moving about a center of force. From this, proves Kepler's law. Then compares mental model to real world. Through iterative steps, marches from one body model to many-body model to orbiting bodies of size and mass, determined that planets attract each other through gravitation. Finally, he shows that all bodies in universe attract each other, but only detectable in large bodies. This is the law of universal gravitation, which explained:
- why planets follow Kepler's law inexactly
- deviations of Kepler's law
- why all bodies fall at same rate at same place on earth, and how the rate of fall varies with altitude.
- regular and irregular motions of moon
- tides
Actually fond ideas of force acting through distance to be abhorrent, he believe universal gravity exists since it explained so much. Didn't worry about how such a force could travel across space, since he wouldn't "feign hypotheses"
EFFECT ON SOCIETY
had a tremendous effect on society, as belief in Newtonian type of "rule of nature", as reflected by Isiah Berlin:
- The impact of Newton's ideas was immense; whether they were correctly understood or not, the entire program of the Enlightenment, especially in France, was consciously founded on Newton's principles and methods, and derived its confidence and its vast influence from his spectacular achievements. And this, in due course, transformed-indeed, largely created- some of the central concepts and directions of modern culture in the West, moral, political, technological, historical, social - no sphere of thought or idea escaped the consequences of this cultural mutation.
one of the most profound revolutions in human thought
EINSTEIN
CHEMISTRY
proponent of scientific method, father of chemistry
believe in observations and experiments
founded Royal Society of London
first chemist to isolate and collect gases; Boyle's law
metals gain weight when oxidize
in Skeptical Chemist (1661) attack Aristotle and Greeks for 4 elements
suggest tiny particles of primary matter from corpuscles; # elements >> 4
all observed phenomena caused from motion and structure (size, shape) of corpuscles
i.e. attempt to introduce mechanical interpretation of chemical phenomena
chemical reaction involve rearrangement of these units
shift from why a chemical reaction occurs (which Aristotelians did in terms of final causes) to how a chem. reaction occurs (in terms of particles)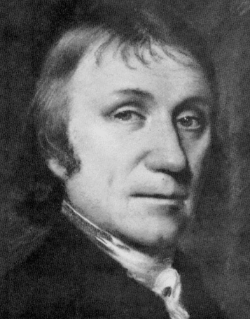 isolated and described gases, including oxygen, ammonia,
heated oxide of mercury and produced gas (oxygen) which sustained animal respiration and caused rapid burning of substances which were lit.
-thought his gas was "dephogisticated" air; still proponent of phologiston theory
found aquatic plants growing in water evolved "dephogisticated" air
minister who wrote "History of Corruptions of Christianity"; support French revolution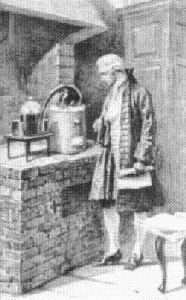 founder of modern chemistry; started revolution in chemistry through carefully quantitative experiments and logic
- before 1770 most believe in phologiston theory,
- after 1790, most accept oxygen theory, his new nomenclature, modern concept of elements, law of mass conservation
debunk van Helmont's Tree experiment which supported Greek notion that water could be changed into earth (5 lb. tree, 200 lb. soil, 5 years with just added water, tree 169 lb., soil lose 2 oz.)
debunk explanation that water turned to earth when boil away water in vessel leaving behind residue; when performed in sealed container, weight residue approx. equal weight decrease in container
found when burn (oxidize) metals weight increases, and 1/5 - 1/6 of atmospheric gas absorbed; when reverse process (reduction), liberate same gas
when oxidize metals in sealed container, no weight gain arose, so idea of "fire" particles passing through vessel not supported; when opened vessel, air rushed in, weight of which about equal to increase in weight of the metal
concluded burning is combination of substance with a gas, called oxygen, from the air
introduced modern chemical nomenclature (replace terms like liver of sulfur, powder of Algaroth, butter of arsenic, with substances that didn't decompose - called elements
wrote first seminal text, "Elements of Chemistry," 1789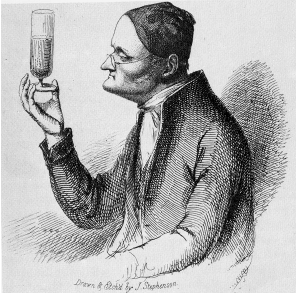 developed modern atomic theory through detailed experimental measurements
- all matter composed of atoms
- all atoms of a given element are identical
- the atoms of different elements have different masses
- specific combination of atoms of more than one element form more complicated structures called compounds (molecules)
- in a chem. reaction, atoms are neither created or destroyed, but merely rearranged to produce new substances.
BIOLOGY/MEDICINE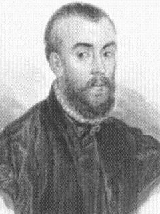 father of modern anatomical science; inaugurate reform of anatomy and teaching
1537 taught surgery and anatomy at U. Padua, where he did dissections himself rather than have surgeons do it
1539, judges allowed the dissection of corpses of executed criminals, allowing him and others to make great progress in anatomy
1543, wrote De Humani Corporis Fabrica (on the Construction [fabric] of the Human Body), with great plate illustrations.
said that the body must be studies directly, not just by reading
from his dissections, showed that Galen's anatomy of humans was based on studies of animals and not accurate for humans
tried to convince doctors and anatomist of inadequacy and errors in Galen's work
didn't have the impact of others since he did not attack Galen or his doctrines directly; criticized only Galen's writing on anatomy and not the Galenic system of medicine.
for example: didn't finds pores in the heart which allow blood to ooze dropwise from the "arterial vein" (or modern pulmonary artery, which takes deoxygenated blood from the heart to the lung) into the "venal artery" (pulmonary vein, which carries oxygenated blood from the lung to the heart.). [Remember, veins except the pulmonary vein, carry deoxygenated blood from the body back to the heart.] These pores, part of Galen's heart physiology, do not exist.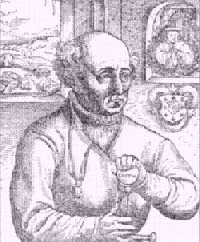 opposed the teachings of Galen and burned copy of the standard text of the day, Cannon of Medicine, by Avicenna.
lectured in vernacular (German), rejected organized religion and classical scholarship.
opposed the leading medical theory: disease is result of imbalance of four humors (body fluids) - blood, phlegm, choler or yellow bile, and melancholy or black bile - in relation to composition of the person. Implies that as many different illnesses as people, and that disease not caused by agent and don't have specific anatomical effects.
in contrast, said disease caused by outside agent and have an effect on a specific anatomical site.
Traditional medicine treat disease by by causing sweat, purging, bloodletting, inducing vomiting; Parcacelus tried to find specific substances to cure disease.
He produced new substances to treat disease as an alchemist, not as a modern chemist., since he believed in three principles (salt, sulfur, and mercury) which possessed spiritual properties.
his work helped to turn alchemy away from turning elements into gold into finding "drugs" to treat disease
opposed build up of medical system based on anatomy and physiology; opposed most organized schools of thoughts. .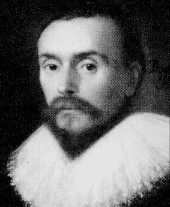 revolutionary in that his studies that showed blood is pumped by the heart in a single, closed mechanical system through veins and arteries, and not in imagined paths;
established new basis of human anatomy and physiology, replacing 15 centuries of Galenic medicine .
teacher included anatomist Fabricius, who discovered valves in veins.
major book, De Motu Cordis (1628) describes circulation of the blood., one of the most important works of the 17th century, revolutionized biological and medical thought in 3 ways:
- firm establishment of experiment and observation to advance biology and life sciences
- introduced quantitative reasoning to study life processes
- ideas of blood circulation
recognized that vein valves discovered by Farbricius allow only one way flow of blood through veins.
valves suggests pump, so Harvey treated the heart as a pump.
heart acts by contracting (when blood is expelled) and expanding. (when blood is pulled into the heart)
Harvey show: blood forced out of left ventricle into aorta, then into arterial system, Blood return to heart though veins in right ventricle. Then moves to right auricle and then through pulmonary artery to lungs. From there it flows back by pulmonary vein into the left auricle , then the left ventricle. The cycle is then repeated. Confirmed by experimentation, observation, dissection, correcting an error held for 2000 years. Studies 80 different species.
used mathematics to explain biology. Determined capacity of heart, (volume pumped per minute) which when multiplied by the number of beats per minute gives the total volume pumped by the heart in one minute. He fund that 164 lbs. of blood is pumped from the heart into the arteries each hour, which is "more blood than the ingested food can supply, or that all the veins together at any give time can contain". Therefore blood flow had to be in a circuit.
Harvey did not know about capillaries, which were discovered later by Malpighi.
revolutionized biology but not necessarily the practice of medicine.
KOCH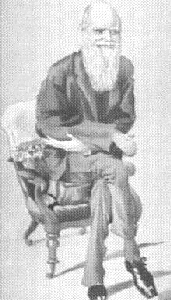 BIBLIOGRAPHY
The information for the time line and descriptions come directly and often verbatim from a variety of sources, including:
Butterfield, H. The Origins of Modern Science. Free Press, 1965
Cohen, I. Revolution in Science. Harvard University Press, 1985
Hudson, J. The History of Chemistry. Chapman and Hall, 1992
Lyons, A. and Petrucelli, R. Medicine: An Illustrated History. Abradale Press, 1987.