Project Aurora


(it's a black project)

"SR-75 Penetrator" &
"XR7 Thunder Dart"

Testors

Stated scale:

1/72

Actual scale:

unverifiable

Overall length:

27.5"

Material(s):

styrene & fantasy

Number of parts:

oops

Stand included?

no

Decals included?

yes

My Source:

local shops

Cost (w/o s&h):

too long ago...

From Testors' own skunkworks comes their take on the "Project Aurora" aircraft, here conceived as two craft, a supersonic mothership which carries aloft a hypersonic drop ship.
11/14/2009 - The XR7 has been built and completed for some time. The SR-75 had been mostly assembled for some time too - the aft portion of the fuselage. Over the weekend I got into a "big box" kit mood and hauled this out - completed painting and assembling the 3-person cockpit, installed it in the forward fuselage and attached same to the rest of the model. And now it's too big too fit into its storage box. sigh.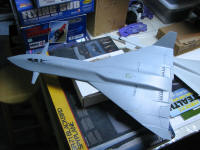 11/21/2009 - Puttied up the seams around the nose portion and started what looks to be a long putty - sand - repeat process.
12/20/2009 - The puttying and sanding continues...
3/20/2010 - Yep, the putty's dry. Finished with sanding it off this past week, shot some metallizer on the exhausts and intakes, and some black primer over the putty joints.
The kit did not contain crew figures so I scrounged some from the parts box. Photos of SR-71 crew show a bulky tan pressure suit with a gold-faced helmet, so I figured this should have something similar. I replaced the figures' heads with small gold-toned beads and painted them white, leaving the faceplate unpainted. I had to amputate their lower legs to get them to fit, but this SR-75 now has crew.
...and it's becoming a black project! That seam midway along the fuselage is being pesky.
3/31/2010 - Canopies added; pesky seams filled. Now, to cut some friskets...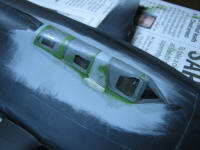 4/3/2010 - ...and suddenly it's finished. Yeah, friskets, more black paint, gloss coat, decals, flat coat. And then mount up the old XR-7 Thunderdart, and it's Project Aurora!