Pirate Missile Frigate

Takara


Crusher Joe

Stated scale:

1/1400

Actual scale:

unverified

Overall length:

Material(s):

styrene

Number of parts:

15-20

Stand included?

yes

Decals included?

no

My Source:

local shop

Cost (w/o s&h):

$1.00

7/11/06 - Grabbed this off the pile after far too many years. It had been painted... ummm, yeah, "I was letting the paint cure real well." (Let's see if they buy that line.) Well, I finally finished off the detail work, such as it is, with some thinned Tamiya black acrylic for the ports, Tamiya clear red over Acryl Pearl for the "headlight," and some brush-shading with brown and ochre pastels.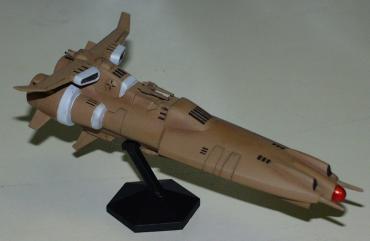 And... it's in scale with a great many Star Trek models.