VF-1S Super Battroid

Macross

Imai

Stated scale:

1/100

Actual scale:

unverified

Overall length:

Material(s):

styrene

Number of parts:

Stand included?

no

Decals included?

yes

My Source:

local shop

Cost (w/o s&h):

US$ 5.00

Much like my other Macross kits, I bought this back in the 80s when Macross was new & way cool. It's been in a box, waiting for the day...
It must have had something to do with watching the Macross DVDs. I just had to dig deep into the unbuilts. Worked on the sub-assemblies, did some puttying, sanding, filing.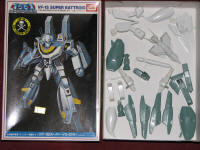 5/26/2010 - Hmm.. anything with paintable sub-assemblies...? *rummage*rummage*... oooh! So, after a brief round of some seam touch up and a dab or two of putty I can load up the airbrush with some mighty white paint.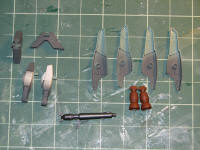 ...but first, some Euro I gray on the exhaust-feet, knees, intakes, & insides of thruster halves; gunmetal on the gun; burnt sienna on the thruster bells.
7/7/2010 - It's finished. I guess I'll need to gather up all the pix shot in the last couple months.
I made a teal-gray mix for the "Super" add-on pieces. Details are insignia yellow, flat black, and Euro I gray.
Once all the paint was done I gloss-coated the parts prior to decaling. The 20+ year old decals needed a coat of decal film to keep them from self-destructing. I used Micro-Sol to settle them to the irregular surfaces.
After a flat coat to seal the decals I finished up with some light chalk weathering and shading