Bandai

Earth Defense Force Cruiser

from Space Cruiser Yamato series

Stated scale:

Actual scale:

Overall length:

8" ish

Material(s):

styrene

Number of parts:

40-50 for cruiser

Stand included?

yes

Decals included?

no

My Source:

so long ago...

Cost (w/o s&h):

$8

Kit also includes two smaller Comet Empire ships, the Paranoia and "Desubateta." Devastator? Death Potato? Romanize it however you will.
7/12/06 - This model has been sitting among the "almost done" kits for many, many years - maybe 15? 20? Someday I should figure out which model is my oldest "begun" one. The EDF cruiser is assembled & painted, just needs the detail work done. So I finally grabbed it off the pile to finish her off.
7/13/06 - Shot a white base coat on the CE ships.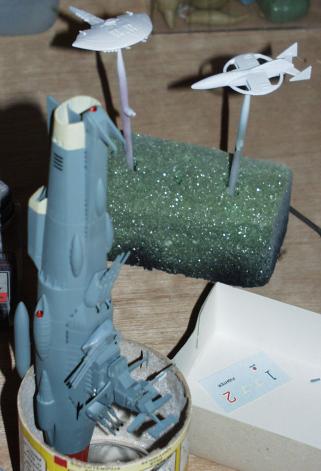 7/15/06 - It's done & in the gallery. Still have to finish off the Comet Empire fighters though.