Starcrafts' NSEA Protector
from Galaxy Quest

Stated scale:

1/1400

Actual scale:

unverified

Overall length:

Material(s):

resin

Number of parts:

8

Stand included?

yes

Decals included?

yes

My Source:

Federation Models

Cost (w/o s&h):

US$70

This is a very well-executed model that any Questarian will be proud to own. Since I haven't assembled it yet, it remains to be seen how stable the wings will be since they consist of three conjoined parts each. I anticipate using lengths of wire embedded in the pieces to ensure they stay together.
Sometime in... 2006? 2005? - This went together very easily. I did add wire pegs to the joins for the engine wing assemblies...
I cut short segments of wire, about 1/4" to 1/2", depending on the size of pieces being pegged.
I used a 1/8" Dremel bit to rout out the holes. I removed the short pegs on the enginey piece before drilling in their place. I superglued the wires into the holes on one piece after a test fit.
I then repeated the process for the join between pylon and aft enginey bit.

I used superglue to join the 3 wing parts together.
9/14/09 - After re-watching Galaxy Quest last Saturday, I got that itch... After another round of wire pegging for the join of the body pylon to engine arc I used 5-minute epoxy to join the wings to the hull. To make sure the wing assemblies stayed in alignment, while the epoxy set I used bits of clay to hold the main hull centered and level and to hold the wing assemblies level. I like doing this sort of assembly over a gridded cutting mat to help keep the parts aligned. And now, it's gonna need a bigger box.
Hmm... interesting news if this proves true... from the Questarian site:
From a review of the 2008 iHobby Expo, it appears that Pegasus Hobbies
will be producing a kit of the NSEA Protector
The iHobby Expo page shows a picture of the Protector that could be box art. The context is a hopeful sign, since Pegasus did release the other 4 kits depicted there. Also interesting is the listing of a Nautilus (20,000 Leagues Under the Sea) kit. Pegasus Hobbies' site lists the Protector kit as "Coming Soon."
9/15/09

Putty Putty Putty

Sand Sand

File File

Capture capture capture capture
reference stills from the movie
9/16/09 - Puttying over the deep-drilled round viewports, cuz they really should be rectangular. More putty, file, and sand work.

11/27/2009 - White primer over green putty... so much fun.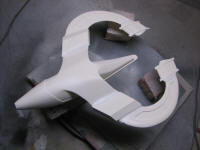 4/18/2010 - Or rather, dark gray primer. With the release of the styrene kit of this from Pegasus, I've decided to make this over into an evil "mirror" version of the ship.