Godzilla

Aurora (re-issue)

Stated scale:

unstated

Actual scale:

unverified




Overall length:

Material(s):

styrene

Number of parts:

Stand included?

base

Decals included?

no

My Source:

local shop

Cost (w/o s&h):

2/22/2010 -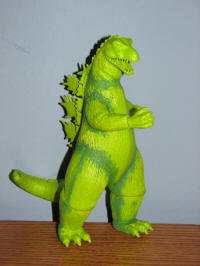 4/20/2010 - Lately this has been the "TV kit" - something to putty up while some show or another is on. I shot a primer coat on it last night to see how it's going - still's some work to do but most of the nasty joints are smoothed over. Basically it's a process of laying down some thick putty, letting it set up, then sculpting across the joint to make ridges and folds in the skin.
8/9/10 - At a loss for what to do, I grabbed old Big G. One thing that had annoyed me was the lack of an upper palate inside his mouth - it was just an big empty head. I mixed up a bit of poly resin, turned G upside-down and poured the resin inside his mouth. Poked and shaped it a bit when it was gelling. There's that annoyance fixed.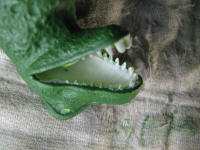 I gave him coat of green paint too - Tamiya Flat Green acrylic.