Darkness

Legend

Stated scale:

1/12

Actual scale:

Overall length:

Material(s):

resin

Number of parts:

3

Stand included?

yes

Decals included?

none

My Source:

Cost (w/o s&h):

Ages ago - After assembly I gave Big D some base colors - rattlecan flat black, insignia red, and trying some bronze metallic for pants and cape. And there was a break in the unicorn horn. That's been superglued back on.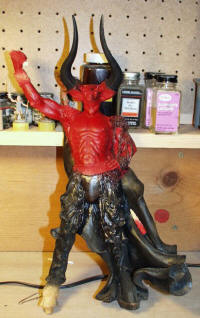 8/29/2012 - What happens when you roll dice to see what to paint on next? Anything! Darkness now has some additional colors in his paint job. Skin is Model Master (MM) British Crimson; fur is Burnt Sienna.
10/8/2012 - Off and on work's been underway in recent weeks.
The horn is painted MM automotive classic white, with pearl acryl and Liquitex acrylic gold layered on.
Leggings and codpiece have a wash of MM manganese brown metallic over the black.
Leg fur is washed with Testors rubber and lightly dry-brushed with MM wood.
Started working on the gems embedded in the belt, epaulets, and wristlets - buffed-up steel metallizer under Tamiya transparent red.
Now, there's the matter of that irridescent detailing on leggings and cloak. I'm experimenting with Golden acrylic paints, both tube and fluid. This is Golden interference_green-orange paint over black... just... wow! freaky-cool. No tricks here - the angle of the light on the paint affects its color transmission / reflection.