Unidentified Flying Object UFO

Lindberg

Stated scale:

none

Actual scale:

none

Overall length:

Material(s):

styrene

Number of parts:

8

Stand included?

yes

Decals included?

stickers

My Source:

local

Cost (w/o s&h):

10/14/2009 - How much time is this kit worth? Apparently enough to turn the alien pilot bust into a complete pilot in a flight couch. The pilot part consisted just of head and upper torso (dark green plastic in shots below). I cut the head/torso off an unused figure and glued/puttied them together. Added another part to make a flight couch. I opened up the cockpit and built in a cockpit floor and sides. I added a few details to the four ?rockets? around the rim of the craft.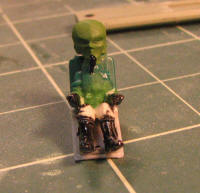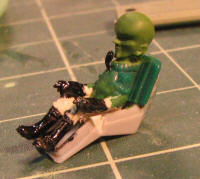 Of course, the pilot HAS to be green-skinned!
10/15/2009 - Further paint on the saucer, cockpit and pilot.
10/16/2009 - And further... top: metallizer stainless steel airbrushed on and then buffed with paper towel. Then some of the panels were buffed to a higher gloss (the darker-appearing panels) with cotton swabs and paper smudge sticks. Bottom: metallizer stainless steel airbrushed on, masked with piece of frisket cut to match the curve, then metallizer gunmetal airbrushed on. All buffed with paper towel.
10/17/09 - And.... finished! I airbrushed MM light grey on the saucer rim, Metallizer titanium on the bottom center disk (a parts-box add-on piece to cover the stand hole) and topside engines. The added detail bits on the rim rockets got a touch of dark red and gunmetal. The main engines looked a liitle... missing something. I glued some trimmed red LEDs to them. Add a little chalk detailing along the rim & rocket crevices, and I'm calling it done.