Class I Dreadnought

Conversion kit for Polar TOS Enterprise
PNT

Stated scale:

1/1000

Actual scale:

unverified

Overall length:

Material(s):

resin

Number of parts:

Stand included?

no

Decals included?

yes

My Source:

Cost (w/o s&h):

This kit uses parts from the Polar Light TOS Enterprise to build the Dreadnought from the old Star Trek Technical Manual by Franz Joseph Designs. I had enough nacelle parts left over from my 4 builds of the TOS-E kit so I didn't have to cannibalize more kits. I will need to use a kit decal sheet though.
I instered short sections of aluminum tubing into the drilled holes and superglued them in place. Once that was set, I used 5-minute epoxy to join the saucer, upper nacelle strut, and 2' hull. I filled and cleaned up the joins with green putty. Then attached the nacelles using superglue, using blocks of plasticine putty to hold the nacelles in place and in alignment while the superglue set. After more green putty filling and filing this was ready for a coat primer.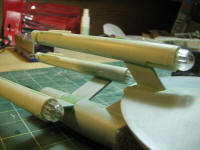 I used gray automotive primer on the model. Here, the topside is primed. Once dry, I'll flip it over and prime the underside.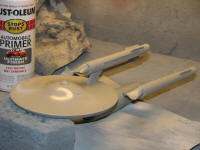 1/16/2011 - I gave this a final inspection... it's off to painting now.
2/15/2011 - The whole 8-starship project is here.
3/1/2011 - This took a break while I worked on the other three Franz Joseph designs - Transport, Destroyer, and Scout. Now, everyone is one big happy fleet, all together in the paint booth.