Klingon Bird of Prey

AMT/ERTL


ST: III and VI

Stated scale:

1/650

Actual scale:

Overall length:

Material(s):

styrene

Number of parts:

22 gray; 2 clear

Stand included?

yes

Decals included?

yes

My Source:

local

Cost (w/o s&h):

This otherwise great kit is flawed by the fact that you have to choose one wing position to build the kit in. Well, this should remedy that flaw: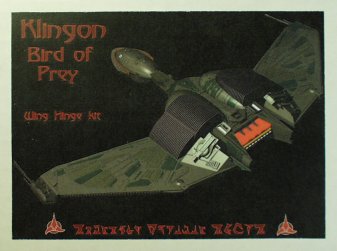 It's a wing hinge kit to replace the molded hinge sets included with the model. It should allow for wings to be displayed in any position. Now, if I could motorize that...
10/11/09 - It took about two DVDs of Primeval episodes, but I got the wing hinge kit's pieces all cleaned up.
The shots below are the current state of sub-assembly of the kit, which has been that way for a long time. I've filled the stand hole with green putty, and have partially filled the inside of the wing weapon pods since the voids are visible when the parts are put together.