U.S.S. Excelsior

AMT/ERTL
"NCC-2000" makes it from ST6

Stated scale:

unstated

Actual scale:

~ 1/1000

Overall length:

Material(s):

styrene

Number of parts:

22 white
10 clear

Stand included?

yes

Decals included?

yes, only for NCC-2000

My Source:

local

Cost (w/o s&h):

Here's a curious thing about AMT/ERTL's Star Trek kits. They do decent kits of the bad guys' starships, yet their Federation starships nearly always seem to have some great glaring problem that should've been easily avoidable. Case in point: Excelsior. How could anyone with eyes look at this ship's bow shot and come up with a kit saucer with a stair-step rim and deep-inset thrusters all around? It boggles the mind. And makes more work for us builders. Job 1 on this kit a serious inlay of filler putty to fix those mistakes.
I'm using white putty for this fix to go with the white plastic and (eventual) white paint.
Job 2 - fix the saucer underside - neck area. The model should have a trench around the neck; it doesn't. I cut out the area and built in the trench using sheet styrene.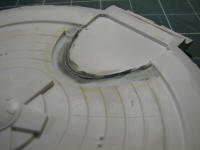 Job 3 - put some backing behind the structure fore of the hangar - the whatever-it-is that replaced the NX-2000's glowy (transwarp?) dome thing. I used sheet styrene to fill in the front curve of the hangar piece so the area behind the trapezoidal thing wasn't a gaping empty hole.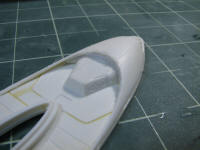 For a little something easy - assemble the nacelles & strut assembly.
12/21/2009 - And that brings this up to date, because these bits and pieces of work were done over the years between now and when this kit was released.