Akira Class Starship

Starcrafts
Star Trek: First Contact

Stated scale:

1/1400

Actual scale:

unverified

Overall length:

11"

Material(s):

resin

Number of parts:

6

Stand included?

yes

Decals included?

My Source:

Cost (w/o s&h):

US$75

Assembled: top keel - and now dealing with the pits and bubbles.
The seams are filled with either 2-part epoxy putty (Milliput) or green putty.
12/14/2007 - This has had some priming done, mostly to see how much work needed still to be done on smoothing the surface. And the priming highlighted just how ugly the windows are. So, I'm filling them in with putty.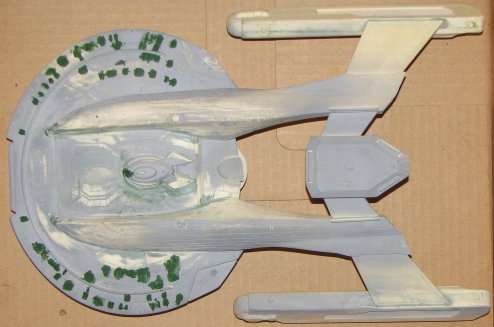 2/9/2010 - Finally tackled one of those "I hate" jobs - rebuilding fractured detail. Those slight points aft/outboard on the saucer needed their details rebuilt since the resin was thin and fractured. I replaced the detail there with styrene sheet. More detail needed fixing aft on the saucer between the hangar bays. But finally, the Akira and the other 3 "FC4" ships are primed.
8/9/10 (and I suppose some people had to mark the time 11:12:13 today too.)
Akira has moved on from priming. After several rounds of applying thinned green putty to "orange peel" texture areas, and then wet-sanding, and all the other fussy pre-painting prep work, this had moved on to being "paintable."
8/21/2010 - The final priming coat is on to give the main colors a uniform undercoat. And, the search for Pantone color matches is underway. This and the other Starcrafts FC4 ships have color callouts given in Pantone numbers. So far the Akira colors involve mixes of Cobalt blue, Azure, FS35414, RLM76, and white to replicate the Pantone 5415-5445 range. Typically, I mix some paint, dab the mix onto a printed color swatch and repeat until I find a match. I'll probably still "grey-back" the colors a bit, not quite to the point of the virtually all-grey color schemes in recent renderings though.
8/26/2010 - Pantone approximation mixes for Akira's colors
5445 - 1 RLM76 Lichtblau : 1 flat white
5435 - 1 Azure blue : 1 blue FS35414 : 2 flat white
5425 - 2 Azure blue : 1 blue FS35414
5415 - possibly 1 cobalt : 3-4 FS35414
8/27/2010 - I airbrushed on Akira's base color, the Pantone 5445 mix.
9/18/2010 - Started on the areas for the 5435 mix. For that masking job I enlarged the JT Graphics decal placement schematic to the same size as the ship and sprayed the backside with 3M Re-Mount. Then, I'm cutting out the patterns an using them as mask panels - or at least as the start of masks. The image and model don't exactly correspond.
I started making a detail piece that's missing from the nacelle, outboard fore of the glowey panel. And there's a small detail area atop the upper hulls that's wrong and will be replaced with correct detail.