ERTL AMT
Cutaway U.S.S. Enterprise NCC-1701

Stated scale:

1/650

Actual scale:

definitely not 1/650; unverified

Overall length:

Material(s):

styrene

Number of parts:

too many of the wrong sort and not enough of the right sort

Stand included?

yes

Decals included?

yes

My Source:

local store

Cost (w/o s&h):

$20

In a word... YUCK! Okay, I could use other words - lots of other words - but this is a PG site.
This model is a pinnacle of failed potential. Sure, it'd make an okay toy with the cut-away gimmick, but as a serious Enterprise model, what's in the box can only be the beginning of a long slog of overcoming the cut-away "features" and fixing the kit's numerous mistakes.
Slog 1: repair the primary hull
After cementing the saucer segments together - with seams that fit together none too well, I heavily reinforced the seams from the inside with sheet styrene cemented across the seams and a good layer of epoxy. I removed the incorrectly-sized/shaped impulse engine rib and rebuilt it from stock styrene. For windows, formation lights and such, I cut openings in the hull and laid in clear styrene pieces which were then sanded flush to the surface. I got an aftermarket resin piece from Don's Light & Magic to replace the abysmally incorrect saucer superstructure.
Slog 2: repair the secondary hull
The secondary hull story is pretty much the same as the primary's - cement the segments together to make two hull halves, reinforce, putty, sand. The dorsal connector is too short, so I wrapped the dorsal in paper and filled the top with poly resin to create a suitable extension.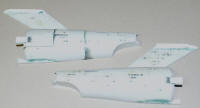 Slog 3: repair the nacelles
Same dance, different tune. In addition to reconstructing the nacelles, I made new detail pieces for the end cap and the three shields below the front dome. I also removed the inboard grid to replace it with more-accurate detail. I found some brass gridding in the railroad supplies that will work for the nacelle grid.
The nacelle struts were so weak & bendy-twisty as to be virtually useless. I reinforced each strut with a brass plate & epoxy putty. I've also run wires through the struts to provide power to the planned lighting for the nacelle collectors.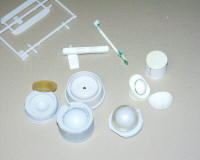 Assorted parts with corrected details, rebuilt parts, molds for casting copies of parts and so on.