K-7 Space Station

AMT

Star Trek The Trouble with Tribbles

Stated scale:

1/7600

Actual scale:

~1/850

Overall length:

16.8" diameter

Material(s):

styrene

Number of parts:

21

Stand included?

yes

Decals included?

yes, in re-release

My Source:

long ago, LHS

Cost (w/o s&h):

K-what? It's a K-something station, but not K-7. Given low-rez 1960s television we probably couldn't tell that this kit was a crude approximation of the K-7's actual appearance. With the station's later appearances in DS9's Trials and Tribble-ations, TOS remastered and on Blu-Ray, we can see quite well what this kit should look like. The kit has ribbed modules whereas the studio version has a sort of stepped-clamshell look, as though the modules could open up like huge hangar bays. It's not that obvious in the original TOS show but gets more noticeable in HD. The lower hangar bay should be thicker vertically than on the kit. Studio has markings on the cone-domes that the original-release kit doesn't have - K-7 on central dome; K-A, K-B, and K-C on the three outer module domes. Many other details on the studio model do not match the kit either.
Compare this
http://memory-alpha.org/en/wiki/Deep_Space_Station_K-7
vs
http://www.round2models.com/models/star-trek/k7-space-station/amt644-05

These are interesting too - http://www.projectrho.com/SSC/station.html and http://www.startrekman.us/pages/4/page4.html?refresh=1112186182747
My working hypothesis: this model is of another K-series station. So.... (shake-a-shake-a-shake-a-rollll a d6). OK, K-4 it is.
The upcoming re-release of the kit gives a scale of 1/7600, which seems based on the size of the 1.5" long Enterprise in the kit and assumes it's in scale with the station. However, using the shuttlecraft (visible in the Trials and Tribble-ations model photos) in the K-7 hangar as a benchmark, the station is in fact only about 360m diameter and scales out to about 1/850. The re-release includes a decal sheet with the appropriate markings for the K-7 station.
1/31/2010 - Assembly of the model was fairly easy and didn't require a lot of puttying, except around the join between station arms and core. I filed and sanded down the raised grid on the clear cones, which I interpret as being the main habitat areas of the station. After finishing up the putty work I gave it a coat of white primer.
10/10/10 - Yep, primer's dry. I gave the station a base color coat of camouflage gray. Based on measurements of the habitat cones I made CAD templates (Autodesk Autosketch) of the cone frustums which will serve as the basis for K-4 station markings.
10/18/2010 - I added some light gull gray detail color areas and, while off at a conference, got the artwork well underway for the K-4 decal sheet (Adobe Fireworks is the app I use for the majority of the artwork). I printed the decals on an HP Photosmart D7160 printer using the "other photo paper" and "maximum dpi" printer settings. I sealed the sheet with a coat of Krylon crystal-clear. (3/3/2011 added note - Testors decal sealer spray works much better than Krylon)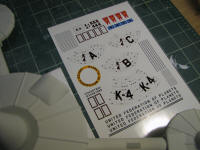 On to a bit of other painting - I trimmed back those paper cones to mask off the cones for painting their tips - beret green, Chrysler engine red and blue angel blue.
10/24/2010 - ...and ready for decals. Over the past couple weeks this has gotten its grid lines, lightly-drawn with thin-lead mechanical pencil and then chalk shading in light-mid grays with a few darker gray bands. I cut paper templates for edge masks when applying the chalks. I sealed this with a coat of glosscote lacquer in preparation for application of decals.
10/25/2010 - Decals, day 1. No, the K-4's marking are not like the K-7 markings. They're not the best decals, but then again they're not the worst I've ever worked with either. For my first major foray into home-made decals, it's acceptable. Microscale Microset worked as a setting agent for them, as long as I didn't poke at them too much. Fortunately this model has a very smooth surface so the decals did not have to get settled into deep detail.
10/27/2010 - Finished up the last few decals and details - painted the beacons with pearl white and transparent yellow then gave the whole thing a few coats of Dullcote lacquer. Finito!