Ambassador Class Starship
TNG era

Unknown Garage mfr
various ST:NG episodes

Saucer: Dorsal | Ventral
Secondary Hull | Nacelles

Stated scale:
1/1400

Actual scale:
1/1285

Overall length:
16.1"
Material(s):
resins
Number of parts:
24 + clear
Stand included?
yes
Decals included?
yes, for "U.S.S. Nebula"
My Source:
C&S Hobbies
Cost (w/o s&h):

US$

80

This kit represents the TNG-contemporary version of the class, not the 1701-C as stated on the instruction sheet. Generally the kit's of decent quality overall. The most notable faults are:
The aft edge of the saucer is a tad irregular - somewhat flattened. It's fixable by pulling a mold from a good section of the saucer edge to build out the bad area.
The bottom shell of the saucer doesn't fit well into the top shell. About 1/16" needs to be trimmed off the edge of the bottom piece.
There's a big mold parting line across the top of the 2' hull between the nacelle pylons. Part of this line gets covered by a detail piece, though. The rest will be quite a puttying job.
The nacelle pylons don't bend at at the proper 90° angle - they bend inward. This should be fixable with a hair dryer to heat and reshape them.
9/12/2010 - I got underway fixing up points 1 and 3 above. I'd made an RTV mold of the hull edge a year or so ago. Today I made a resin casting to replace the irregular section of the saucer. And that putty job is underway. The 2' hull halves don't fit together well either - I think trimming back the top center will edges will fix that 1/8" gap back at the shuttlebays.
9/24/2010 - Sub-assembly day! I superglued the nacelle halves together and secured them with rubber bands while the CAA set.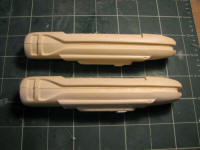 9/25/2010 - I trimmed the joining surfaces of the 2' hull to improve their fit using a Dremel mini-drum sander.
Next up, cutting out the deformed aft edge of the saucer and trimming the replacement casting for that area.
10/26/2010 - Over the past month I've been at work on sub-assemblies - superglue for the 2' hull, superglue and 5-minute epoxy for the saucer and extensive putty work to fill the gaps.
I've started work on custom decals to mark this at NCC 10532, U.S.S. Horatio. Existing aftermarket decals are all in 1/1400 which will not fit this kit due to it's odd scale of 1/1285. This kit's saucer, compared to the AMT/ERTL 1701-C saucer, shows then scale difference between the two.