Vulcan Cruiser

Nova Hobbies
Star Trek: Enterprise

Stated scale:

1/1400

Actual scale:

unverified

Overall length:

Material(s):

resin

Number of parts:

3

Stand included?

yes

Decals included?

yes

My Source:

Federation Models

Cost (w/o s&h):

US$ 65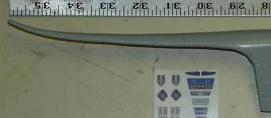 7/21/06 - Gave the parts a thorough scrubbing with cleanser to remove mold release & other residues. Job One's gonna be a heat treatment to fix the bend in the tail.
7/30/06 - Filed and sanded down mold lines and worked on smoothing the surface. Used a file to straighten and smooth out the white arc-shaped areas on the connecting strut. Still have to deal with the happy curve in the tail.
8/4/06 - With the parts held in alignment by straight (vertical) sided bottles and mounds of clay, I sugerglued the single point of attachment of the three parts.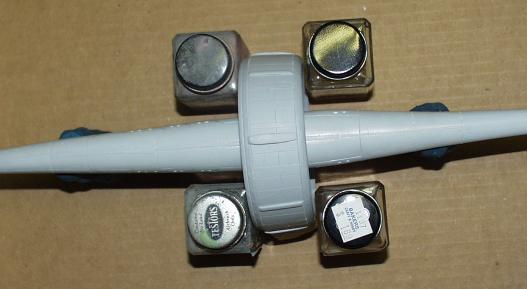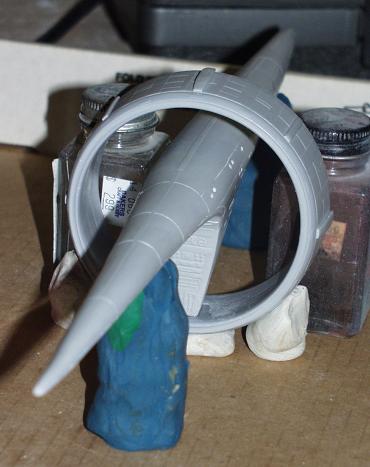 Here are the Surak-class ship, and some smaller (perhaps a scoutship?) version side by side. Still have to do some work on the Cruiser's tail to finish straightening it.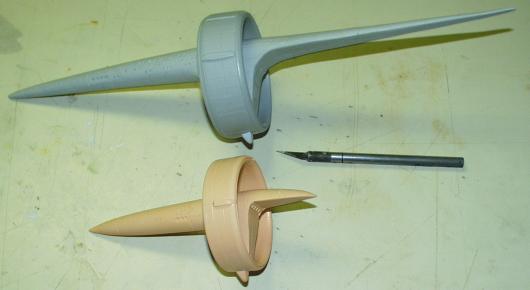 8/16/06 - Began puttying the seams using thinned Squadron green. I'm also puttying over the viewports, which are too deeply-bored into the model and incredibly uneven around the edges. Many aren't even round, oval, or any reasonable shape. Most of the grid lines will need to be filled and re-engraved. Or maybe just filled.
9/8/09 - After more on & off work, all the puttying is done, the models were primed, inspected, touched up and finally painted with a base color - equal parts MM insignia red and Testors gloss red.