Fine Molds'
Jedi Starfighter

Stated scale:

1/72

Actual scale:

unverified

Overall length:

Material(s):

styrene

Number of parts:

starfighter: 23 white; 2 clear
hyper-ring: 16 white

Stand included?

yes, 2

Decals included?

yes, with a vengeance

My Source:

Cost (w/o s&h):

"Fine Molds" accurately describes this company. Detail on this kit is very well-executed and the parts are very well-formed. The only real flaws are two sinks to either side of the cockpit.
White & black paint base coats applied:
100 decals later...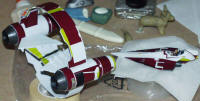 and still about 80 left to apply.
Once all the decals were on I gave it a couple coats of dullcote, some light weathering with black chalk, and one final dullcote.