Republic Gunship
SW Attack of the Clones

Revell

Stated scale:

unstated

Actual scale:

~1/72

Overall length:

Material(s):

styrene

Number of parts:

~40

Stand included?

yes

Decals included?

no (pre-painted)

My Source:

gift

Cost (w/o s&h):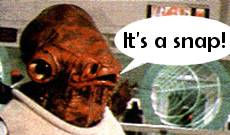 12/27/2009 - Yes we know, Admiral; thanks for the hot tip. It's also a pre-paint, so details that should have been decals will need to be replaced when a proper glue & paint assembly is done on this.
More deficiencies will likely appear as work gets underway on this, but initially the most glaring omission is that the wing gunner bubbles are molded-in with the wings rather than being separate clear parts. Additional work will probably have to be done on the interior. I may have to clone some clones too. There are about 5-7 included to stand in the troop bay in addition to 2 pilot figures. Wing bubble gunners will also be needed.