Revell AG's
ATRT

Stated scale:

unstated

Actual scale:

1/20

Overall height:

182mm/7.2"

Material(s):

styrene / soft vinyl

Number of parts:

46

Stand included?

no

Decals included?

no (prepainted)

My Source:

Federation Models

Cost (w/o s&h):

$40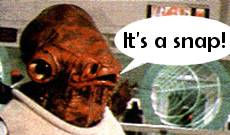 As much as I dislike pre-painted snap-apart kits, this one wasn't bad to work over into a glue-fit kit. The main snag that comes from doing a glued & painted assembly is that the lack of decals means a lot of fiddly detail painting when that time comes. So, I took a lot of photos of the prepainted parts as references for the final detail work. The few renderings of this in the Star Wars Chronicles Prequels coffee table book will help too.
I plan to mount this up and a "muddy ground" base. Or maybe it'll be a dio of the ATRT standing there with the rider on the ground trying to figure out how to mount up. I mean - ok, cool concept but I don't think they fully thought this through. Does every ATRT have a mount-up ladder back at base? Or is there a "hunker-down" control so the thing'll kneel down?
I thought the muddy ground would look good with a few more ATRT footsteps in it so I pulled an RTV mold off the foot. and, as long as I had the RTV out, I pulled a mold off the rider figure.
11/14/2009 - I finally gave this a primer coat, which I think will also serve as the main gray color. I left a few of the pre-colored parts off - the antennas, saddle and a few detail pieces - and will attach them after the primer's done.
I made a polyurethane casting from the rider mold - one and a half, in fact, since the lower legs didn't form fully the first time around. I'll do some "knee surgery" to merge the two castings. Mainly I wanted the casting to correct the vinyl figure's slight toe-in, plus much of the detail on the vinyl is mushy. The casting will be easier to make a sharply detailed figure.