MPC
Speeder Bike
Return of the Jedi

Stated scale:

unstated

Actual scale:

~ 1/12

Overall length:

Material(s):

styrene

Number of parts:

Stand included?

Decals included?

no

My Source:

Cost (w/o s&h):

7/17/06 - Here's the current state of the model, Assembled & base-color painted. It's been that way for quite a while, resting of the paint pile, waiting... waiting...
Modifications made:
The rider is all dissectified 'cuz the Grand Plan is a diorama with him about to meet his dessstiny. Ahh, ignorance is bliss.
7/23/06 - Trimmed out the helmet mouthpiece area, since the plastic edges were waaay too thick. I also trimmed the thickness of the visor / face surround. Pilot parts.
7/26/06 - Further dismembering of the pilot. He's going to be in one of those turned around looking behind poses the bikers sometimes do. Silly bikers. We know what happens to a biker who looks behind him.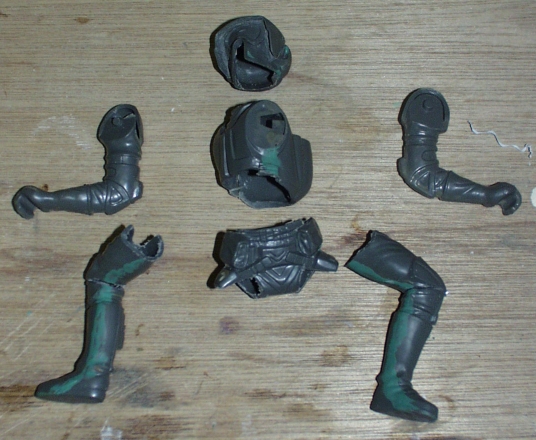 8/1/06 - More dismemberment! An old fridge egg rack works to keep his parts organized.

9/5/06 - The base of the base. Floral foam makes up the base layer, glue to a board with white glue. The foam is easy to sculpt, whether using tools or fingers, which is why I like it for dioramas that need uneven terrain.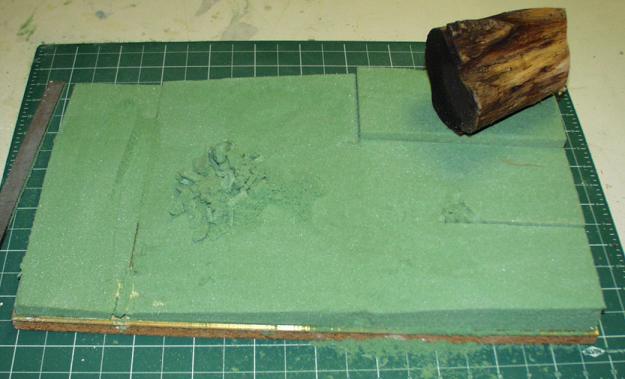 1/22/07 - Here's the first round of weathering & wear on the speeder bike. The shading was done with earthtone & gray pastels. The bare metal edge-wear, scrapes & dings are rub'n'buff applied with an X-acto knife.

3/14/07 - Soft detail: The bane of all model builders. The biker is almost nothing but soft detail, a shortcut to keep sharp edges from hanging up in the molds during production.

I did some work on the biker's kneepad to begin to sharpen up the detail, which will have to be done all over the guy.

10/8/2009 - replaced my folded styrene sheet blanket with a cloth one - scale sail cloth soaked in thinned white glue, then folded and molded to fit in place.