Mk.7 Human Fighter
which bears a remarkable similarity to the Viper Mk 7


Black Sun Models
Battlestar Galactica

Stated scale:

1/72

Actual scale:

unverified

Overall length:

Material(s):

resin, styrene

Number of parts:

Stand included?

no

Decals included?

yes

My Source:

Starship Modeler

Cost (w/o s&h):

US$55

What? No pictures at all?
9/17/09 - Well, this is all assembled and primed, and has a base coat of MM burnt sienna on the engines.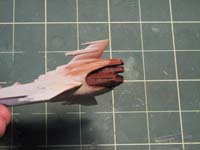 4/3/2010 - And... well, what to do with this now that Moebius has announced the subject in 1/32 styrene. I think this one will have the Pegasus livery, and I'll save Galactica's mk.VII for the large-scale kit. I've repainted this with a 1:1 mix of insignia white and light gray.
5/25/2010 - I made an attempt at over-tracing the Pegasus Viper blue stripes on one of the images in the instruction sheet as a template to cut friskets, but proportions and some angles just don't match up. I traced over this model and transferred the tracings to frisket. I painted blue areas (MM Azure blue) on the model. Once the paint had dried I laid frisket over the blue and re-painted using the white/gray mix.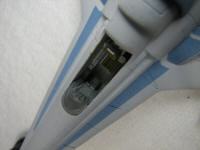 6/11/2010 - After a coat of gloss acrylic and overnight drying, I decaled up the ship. The kit had no callouts or numbering for the decals so this is a mix of observations from CG renderings and conjecture. I followed the decals with a dullcote overspray.
7/7/2010 - I finished this off with chalk dusting of brown pastels, dotting black paint into the RCS ports and some German chocolate brown (MM Schokoladenbraun) on the guns. Might have to re-do the canopy - the CAA from gluing in the pilot was apparently not fully dry and fogged the canopy interior.