Ventilated Paint Spray Box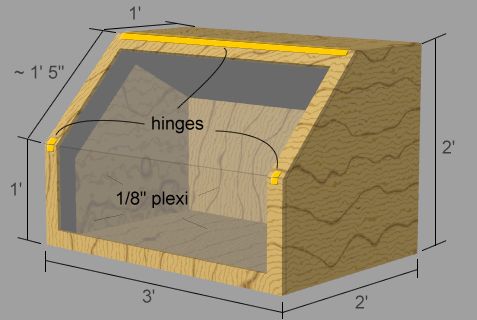 This box will have lighting, a fan vented to the outside, and an electrical supply to run the airbrush. The front is hinged at two points.
The wiring diagram for the box shows the connections for the outlets and switches to run the fan & lights. The blue loops in the diagram indicate a cable bundle - in this case, computer power cords with the ends cut off. All wiring connections are capped and taped, and inside the fixtures or an electrical box.
The paintbox front shows the main construction - 1/2" plywood for the sides, top, back and cover frame; 1/4" Masonite for the bottom. 1"x1" lengths are used to reinforce the interior corners of the box.
The fan is an inexpensive bathroom ventilation fan. I cut a hole in the back wall of the box to fit the fan. Note the fan's vent hole will point upward when the box is set upright.
The paintbox interior shows the lighting fixture, a 24" 2-tube fluorescent, and the fan cover.
The completed wiring shows the light / fan switches and outlets located in easy reach on the outside of the box.