CHAPTER 2 - PROTEIN STRUCTURE
A: AMINO ACIDS
BIOCHEMISTRY - DR. JAKUBOWSKI
Last Update: 02/27/16
Learning Goals/Objectives for Chapter 2A: After class and this reading, students will be able to
state the charge on amino acid side chains using the Henderson Hasselbach equation and the approximate charge by inspection at any given pH
draw mechanisms and identify products for the reaction of nucleophilic side chains Lys and Cys with common chemical modification agents and extend this understanding to reactions of His.
draw mechanisms for disulfide exchange reactions for sulfhydryls using them and oxidation numbers to explain redox reactions of cysteine/cystine.
A6. Reactions of Cysteine
Cysteine is a potent nucleophile, which is often linked to another Cys to form a covalent disulfide bond.
Figure: CYSTEINE REACTIONS 1
reacts with iodoacetic acid in an SN2 rx., adding a carboxymethyl group to the S.
reacts with iodoacetamide in an SN2 rx, adding a carboxyamidomethyl group to S.
reacts with N-ethylmaleimide in an addition rx. to the double bond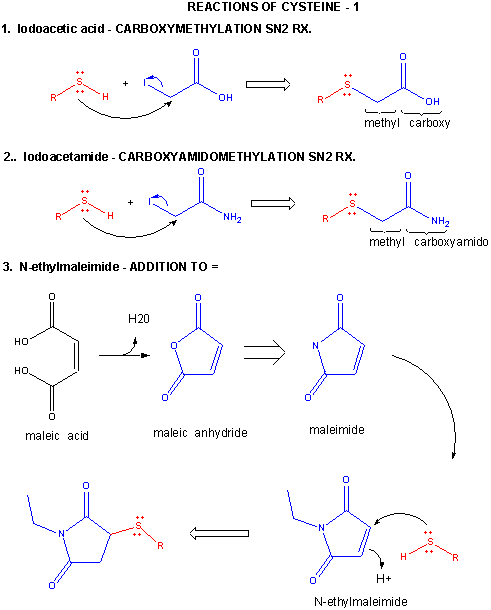 ---
Figure: a quick review of
sulfur redox chemistry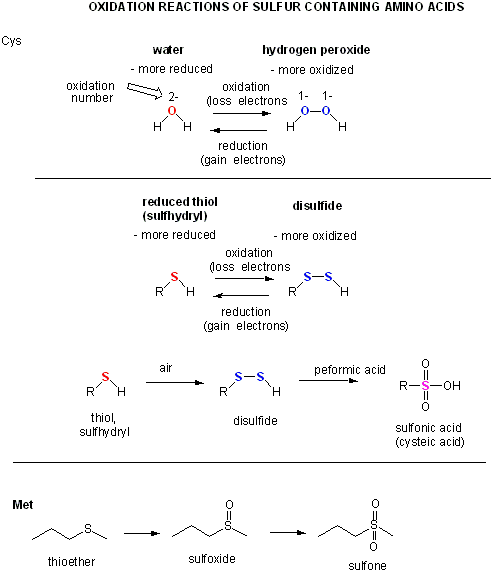 ---
Figure: CYSTEINE REACTIONS 2
reacts with R'-S-S-R'', a disulfide, in a disulfide interchange reaction, to form R-S-S-R'
reacts with oxidizing agents like HCOOOH, performic acid, to form cysteic acid.
reacts with 5,5-Dithiobis (2-nitrobenzoic acid) (DTNB or Ellman's reagent) in a RSH displacement reaction in which DTNB is cleaved and the 2-nitro-5-thiobenzoic acid anion, which absorbs at 412 nm, is released. Used to quantitate total RSH in a protein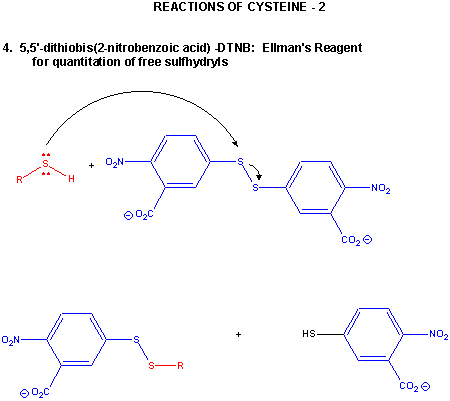 Biochemistry Online

by

Henry Jakubowski

is licensed under a Creative Commons Attribution-NonCommercial 4.0 International License.