CHAPTER 2 - PROTEIN STRUCTURE
A: AMINO ACIDS
BIOCHEMISTRY - DR. JAKUBOWSKI
Last Update: 02/27/16
Learning Goals/Objectives for Chapter 2A: After class and this reading, students will be able to
state the charge on amino acid side chains using the Henderson Hasselbach equation and the approximate charge by inspection at any given pH
draw mechanisms and identify products for the reaction of nucleophilic side chains Lys and Cys with common chemical modification agents and extend this understanding to reactions of His.
draw mechanisms for disulfide exchange reactions for sulfhydryls using them and oxidation numbers to explain redox reactions of cysteine/cystine.
A8. Reactions of Histidine
Histidine is one of the strongest bases at physiological pH's. The nitrogen atom in a secondary amine might be expected to be a stronger nucleophile than a primary amine through electron release to that N in a secondary amine. Opposing this effect is the steric hindrance by the two attached Cs of the N on attach on an electrophile . However, in His, this steric effect is minimized since the 2Cs are restrained by the ring. With a pKa of about 6.5, this amino acid is one of the strongest available bases at physiological pH (7.0). Hence, it can often cross-react with many of the reagents used to modify Lys side chains. His reacts with reasonably high selectivity with diethyl pyrocarbonate.
Figure: REACTIONS OF HISTIDINE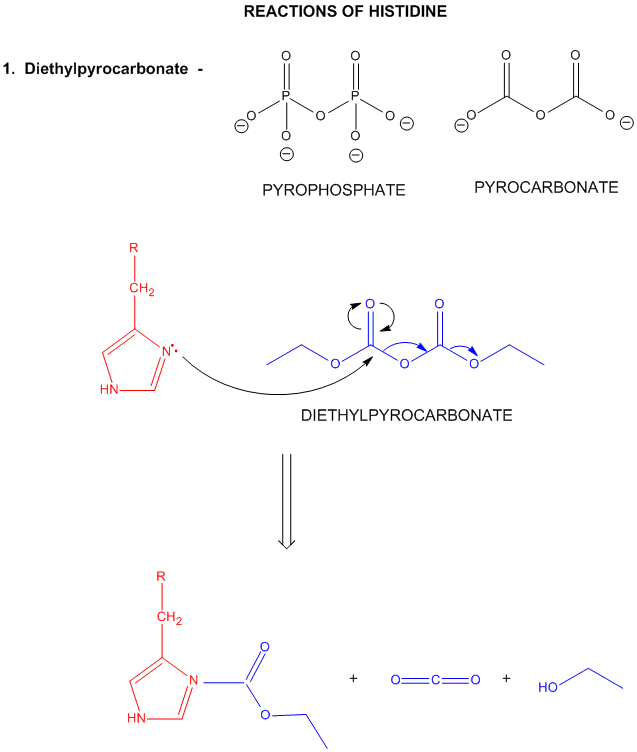 ---
Figure: Where is the H on His? Where is the Charge?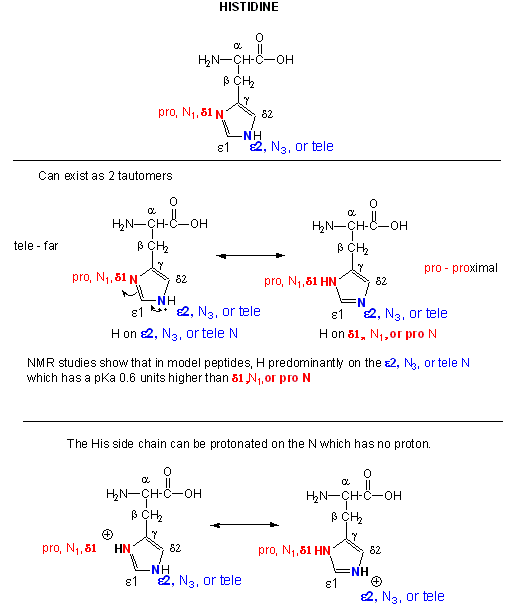 ---



Biochemistry Online

by

Henry Jakubowski

is licensed under a Creative Commons Attribution-NonCommercial 4.0 International License.