HISTORY OF MEDICINE- WEST
Ancient Greek medicine can be divided into 5 stages: Homeric, Mythological, Pre-Hippocratic, Hippocratic, and Post Hippocratic
HOMERIC MEDICINE: 9th century BC; description based on oral tradition, archeology, writings.
Gods cause disease. Iliad opens with epidemic sent by Apollo, the arbiter of health and disease. Asclepius, his son, was a legendary physician. Hygieria, his daughter, was goddess of health.
stop disease by discovering what offends the gods.
knowledge of anatomy from butchering, sacrifices, and battle injuries
thymos - life force in all parts of a living organism, maintained by factors from the outside (food, drink, air) and inside (blood, etc.); could escape from wounds and by exhaling; leaves body at death
psyche: soul or individual personality; spirit, which went to underworld after death; heart source of consciousness
MYTHOLOGICAL:
Asclepios, god of healing (Apollo's son); a warrior king;
many temples build to Asclepios, where healing occurred. Patients leave offering to Gods.
Many types of illnesses treated, many of which were psychosocial
PREHIPPOCRATIC : 6th century BC
philosopher/scientists of time used new model: give all phenomena natural vs. supernatural explanations.
Thales (around 600 BC) ; thought there was one element, water, from which came earth, air.
Pythagoras (530 BC). developed school of philosophy but also religious cult; Humans were fallen gods, which eventually return back to the divine through the rebirth of the soul in animals. (Hindu, Buddhist ideal) It was science of numbers not elements that determined fate. 1 = God, 2 = matter, etc. Seek balance. Opposite pairs of substance and qualities achieve balance. 4 elements, 4 qualities, hence 4 becomes important in health. Stressed vegetarian diet; some foods used to treat disease.
Alcmaeon - health is harmony, disease disturbance of harmony. But need dissection, not just philosophy to understand body. Through dissections (animals) concluded brain seat of mind. Thought sleep induced when brain blood vessels filled with blood. Eye contained both fire and water. First real medical scientist.
Empedocles: (450 BC, see History of Science - West) described 4 elements with 4 qualities, which had a great effect on the development of medical theory.
SUMMARY OF MEDICAL PRACTICE AT TIME OF HIPPOCRATES:
No longer believed illness caused by Gods, but little effective treatment available. If patient couldn't be improved or cured, abandoned by practitioners. Patient in better state since now would be the subject of rational treatment.
THEORY
men study philosophy, rhetoric, science, and medicine, including surgery.
Illness explained in terms of 4 humors (derived logically from the 4 elements, 4 qualities, pairs of opposites (especially #4) needed to be balanced to achieve harmony in universe and body; 4 seasons, which affect mind and body; 4 visible secretions (blood, phlegm, bile - yellow and black)
all body fluids composed of various proportions of blood (warm & wet), phlegm (cold and wet), yellow bile (hot and dry) and black bile (cold and dry).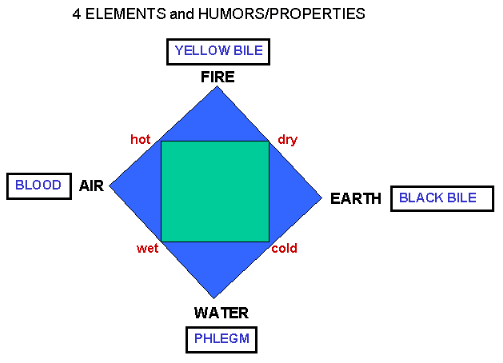 humors in balance = health; Excess or lack = disease.
3 stages of disease:
a.) change in levels of humors caused by external or internal factors;
b.) body react with fever or boiling;
c.) discharge of excess humor which lead to cure, or death.
often see discharge during illness: blood, phlegm, vomit urine, sweat, fecal matter
Causes of mental disease seen less likely as supernatural or demonic, but more rational; But Plato, contemporary of Hippocrates, used mythology to classify mental illness in 4 categories: a. prophetic - mediated by Apollo; b. ritualistic ; c. poetic; d. erotic
TRAINING
physician status of craftsman from aristocratic class
poor not likely to afford physician (may have given rise to Asclepian temples available to all.
magical medicine available to all
train by apprenticeship; did house calls since itinerant; operations often performed in houses
no system of licensure; anyone except a women could be a physician.
METHODS
diet, exercise, temperance,;
numbers important: 4 day interval between fevers; menses - 4X7, pregnancy - 4x70 days
wounds cleaned and treated with minerals and plant extracts, which included wine.
some medication to induce vomiting; use enemas.
lots of bone breaks treated with mechanical devises; cauterized wounds. Gave juice of opium poppy for pain relief.
physicians care for animals; animal anatomy applied to humans; humans alone has soul.
physical exam include questions about life style, emotion state, behavior, climate;
successful physician made accurate prognosis, not necessarily cured patient.
HIPPOCRATES - 460 BC - 370 BC (approx.)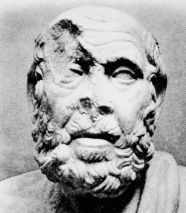 Had most profound influence on Western and some aspects of Eastern medicine of anyone in history. His esteem increased with time, as his legend (based on truth or rumor) grew. A collection of his works, "Corpus Hippocraticum" (72 books), probably including contributions from others, was assembled in 4th cent. BC in library, established by Ptolmey, at Alexandria, Egypt. First to mention 4 humors. Balance of 4 humors determines the state of the microcosm (body) as the state of the world (macrocosm) was determined by the 4 elements (which were formalized by Aristotle). Ideas in his books:
Anatomy: scant information. Heart description quite complete, including pericardium ventricles, valves, auricles and ventricles. Didn't understand the differences between veins and arteries.
Physiology: heat of the body necessary for life comes from the pneuma of the air, and is taken in by lungs. Air and blood fills arteries. Sight depends on lens and gel in eyeball. 4 humors corresponding to 4 elements are physiological bases of body function. Harmony necessary for health.
Pathology: cause of illness due to internal or external influences like climate, diet, activity, surroundings. 3 stages of disease: degeneration of humors; cooking, and crisis with departure of bad humors. 40 case histories.
Therapy: avoid interfering with course of illness except at right time. Assist nature in cure. Used few drugs. Laxatives and emetic herbs main agents. Diet, baths important.
Diagnosis: list few diseases and syndromes. Condition of patient most important, so get info. on past and present behavior and problems. Observe patient and excretions. Orifices probed with speculums. Listen to breathing but not much info. on heart sounds. Little uses of pulses.
Prognosis: Use all info. to consider prognosis. Patient confidence and reputation of physician depend mostly on accurate prognosis.
Surgery: Most extensive listing. Fractures, dislocations, wounds of skull given much treatment. Bandaging and cauterization stressed; "What drugs fail to cure, that the knife cures; what the knife cures not, that the fire cures; but what fire fails to cure, this must be called incurable. " Treat tumors, ulcers, hemorrhoids with surgery.
Gynecology/Obstetrics: fetus thought to initiate own delivery. Diseases of uterus known but it was thought to wander around (as in the case of hysteria).
Mental Illness: Brain was seat of thought and understanding (later to be changed by Aristotle). Accurate description of epilepsy, deliriums, depression, anxiety
Ethics: Exceptional treatment of ethics. Deal with who should enter profession, how the physician should act, what they should say and do to comfort patient. Physician should lead a moderate life.
Hippocratic Oath
describes what a physician should do and not do
avoid doing harm to patient and life by not giving deadly drugs, doing abortions or surgery, having sexual relations with patients, discussing patient information with others.
duty is to "in purity and holiness I will guard my life and my art"
Probably does not originate with Hippocrates since he described techniques for surgery and abortions
might have originated with the Pythagoreans who prohibited taking any life, and who believed the soul was found in blood and hence avoided surgery.
remained a part of medical doctrine and education possibly through support o Christian churches.
Hipppocratic Method
Rational methods free of religious or supernatural thinking were great advance in medical practice.
OBSERVE ALL: take intensive history. Leave nothing to chance. Histories are written down in great detail. Physician use all senses in observing patient.
STUDY THE PATIENT RATHER THAN THE DISEASE: study how the patient reacted to a disease, not just disease. Surroundings and way of life of patient very important; Opposed classifying diseases according to organs affected.
EVALUATE HONESTLY: 40 case histories presented in works, half of which died. Objective, including lack of response to treatment. Prognosis was most important, for that is what people really wanted to know.
ASSIST NATURE: Make conditions good for natural forces in the body to reach harmony and health. Must leave alone what he cannot help. "As to diseases, make a habit of two things; to help or at least not to harm".
weaknesses:
- anatomic knowledge scarce, unsystematic.
- lack of specific diagnosis.
- Let nature take its course led to wait and see mentality.
- supported 4 humor theory
POST HIPPOCRATIC - splits into variety of sects.
Plato - (see History of Science - West)
Influenced by Pythagoreans since great interest in numbers; Main interest in soul and nature of matter; medical thoughts deduced by logic but without experimental evidence. The Dogmatists in 3rd cent. BC and after used his doctrines (reasoning superseded observation; experience means of testing, but mostly to support own ideas) classified all diseases according to humors. Used extreme therapeutic measures - drastic purging and bleedings
Aristotle (see History of Science - West);
wrote extensively on comparative animal anatomy. described beating of embryo heart, some difference between arteries and veins, the aorta (which he named), that fetus did not breath.
But, believed in 4 humors; formalized relationship among 4 humors, 4 elements, and qualities, as pictured above.
no concept of evolution; imagined all species unchanging
living things had soul; nonliving hand none; humans most highly developed soul
heart seat of intelligence; confused nerves with ligaments and tendons, linked veins from liver to right arm and from spleen to left arm, which was theory of bloodletting; dreams portents of the future
Was an experimentalist, in contrast to Plato, his teacher. Aristotle, with Hippocrates (past) and Galen (future) were source of most medical authority.
4 Humors in Greater Detail (from The Greatest Benefit to Mankind - Ray Porter)
Phlegm and bile were associated with disease, since they became evidence in sickness. Cold in winter were associated with excess phlegm, while summer diahrrea and vomiting were associated with bile. Of the 60 books in the Hippocratic Corpus, one, Airs, Waters, and Places details information on disturbance in the humors. Since blood was released during menstruation, it was likely that blood letting would also have therapeutic effects. Black bile was seen in feces and vomit. The four humors could be correlated through analogy to the four qualities, four seasons, four ages of people (infancy, youth, adulthood, and old age) and four temperments (melancholyi, choleric, sanguine and phlematic). For example
yellow bile (hot and dry) predominated in summer. Severe fevers likely (malaria).
black bile (dry and cold) increased in fall as the weather cooled. Fevers waned but after effects (of malaria) - enlarged spleen (source of black bile), discolored and darkened skin and darkened urine appeared
phlegm (cold and moist) predominated in winter since it was cold and wet, like the Mediterranean climate, so colds, pneumonia more likely;
blood (hot and moist) predominated in spring (and among young); an excess of blood under these conditions could be avoided by avoiding food rich in blood or by blood-letting; spring fever (probably malaria), nosebleeds, dysentery more likely.
SUMMARY OF MEDICAL PRACTICE IN ROMAN EMPIRE:
Greek medicine reached peak in Alexandria, and then moved to Rome which controlled much of the area. Early Roman medicine based on Gods, but eventually gave way to more rational approaches. Greek culture become predominant part of intellectual life in Rome. Many Greek physicians came to Rome.
repudiated Hippocrates
believed physician cured disease, not nature
abandoned 4 humors, and instead devised a "solid" system in which assume body composed of an almost infinite number of atoms of different size and in motion (based on Democritus). Between atoms flowed body fluids
Health depend on smooth activity of atoms; sickness when atoms disordered.
Used diet, exercise, massage, medications, enemas, music, and singing
developed tracheostomy (opening in the wind pipe)
for "phrentis" (mental illness) used opium and wine
Overthrow of acceptance of authority, reject humors, use material approach to body mechanisms major step to rational health care system.
Galen (below) criticized him for beliefs, and his views dismissed until the Renaissance.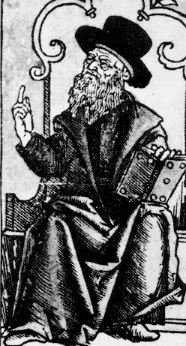 Greek physician and most influential writer of all time on medicine. This work was basis for medicine for 1500 years. Careful and accurate, but uncritical observations. Worked in Alexandria and Rome. Wrote huge amount about anatomy, physiology, pharmacology, pathology, therapy, dietetics, hygiene, philosophy, all in Greek, the language of science. Scholars accepted his work blindly. Considered first experimentalists.
CHARACTERISTICS OF WRITING
teleological explanation for everything. He believed everything was predetermined,which caused him to see fit everything to his views. For example, organs had function since Nature gave them purpose. These ideas were attractive to Christian church. Aristotle said "Nature does nothing without a purpose." Galen supplied the purpose. Galen expanded Aristotelian ideas into medicine. Every structure in a body has purpose. All things are determined by a wise and perfect God.
His theory of illness based on Aristotelian 4 humors and previous Hipppocratic corpus. Used the humor theory of the old Greeks that 4 humors were responsible for health and disease. He elaborated on it, and proposed there were four personalities: phlegmatic, sanguine, choleric, and melancholic. He believed fevers resulted from an excess of the biles, phlegm, or blood, since they excess was stored in certain places of the body where it would putrify, causing fever. Bloodletting became popular. Mental illness was also characterized. Mania (a hot illness caused by yellow bile and treated with cooling agents) and Melancholia (depression - caused by black bile) were common labels used for mental illness. .
concentrated on anatomical detail. Saw veins connected to heart, and nerves coming from central nervous system. Showed the anatomy of the spinal cord. Dissected accident victims and abandoned corpses, but based much anatomy on animals.
Although much data accurate, made many mistakes in internal organs. Would propose structures not there to fit theories such as holed between left and right sides of heart.
Discerned importance of emotions and symptoms and believed in prevention through hygiene.
His physiology based on the idea that the "life principle" was a spirit drawn into the body from the spirit world while breathing.
To describe the body, Greeks and Romans used metaphors derived form domestic scenes and agriculture. Galen thought the slow flow of blood to nourish the limbs and organs was like a great irrigation system. He thought the blood didn't circulate. Originates in liver, goes through veins. Blood in arteries flows from heart, and when reaches brain produces animal spirit. Only contact between the two flows were through pores in heart. Lungs bring air to heart, and discharge smoky vapors produced when air reached the invisible fire in the heart (like a hearth).
USE OF MEDICATION
large scale use of medicines derived from plants. prepared prescriptions.
Use of medicine often went to extremes. Mixed and blended agents whose properties classified according to 4 humors and 4 qualities (hot, cold, dry, moist). i.e. a hot illness required a cold drug.
Expanded number of ingredients to more than 70 in theriac, an ancient medicine originally used for snake bites, but whose use was expanded for use against all poisons, pestilence, black death. Called theriac (means wild beast) after viper flesh was added to it . By middle ages, more than 100 ingredients. Productions took months, and should be aged for years. Its use lasted until late 19th century. Popular partly since it had opium in it.
CONCEPT OF BLOOD
ingested food digested then transformed in form of "chyle" to liver, where it is turned into blood
in liver, bile charged with "natural spirit" necessary for life function
blood leaves liver by veins to carry nourishment to body
some of blood move through arterial vein (our modern pulmonary artery) to lung, where gives up impurities and waste to air
some blood enter right ventricle of heart, which passed to left ventricle of heart through small holes, where it mixes with air that comes form lungs by venal vein (our modern pulmonary vein) and becomes charged with "animal spirit", changing in color from dark red (which we know is deoxygenated blood) to bright red blood (which is oxygenated blood).
This new blood pass through arteries to body
An additional system, arising in brain, is source of "animal spirit" which is sent out through hollow nerves.
WHY DID HIS WORK LAST SO LONG?
middle ages produced wish for authority and absolutes
teleological reasoning was in accord with the teachings of the Christian church.
his encyclopedic writing were great resources for training and information
practitioners that followed him elevated his status
remained unchallenged until Vesalius, 16th century, who shook foundations of authority in Renaissance.
MEDICINE AND THE RISE OF CHRISTIANITY
Early Christians thought disease associated with sin; response was to suffer, and the only cure was through Grace.
When 2nd "coming" didn't occur, became more concerned with health and disease
touching became important in healing, mimicking described healings of Christ.
As church became more structured, tried to extend Christ's healing mission so develop facilities for care of diseased. Hospitals developed, unlike those used on battlefields, since they cared for long-term support of diseased and poor.
MEDICINE AND THE DARK AGES
After fall of Rome to Goths in 476, and decline of Roman culture and influence, "ancient" knowledge in science and medicine knowledge decline in importance with concomitant increase in power of Church. People took knowledge on "faith" with less emphasis on learning and own observations. Increased interest in magic and mysticism.
Return to belief in supernatural cause of disease, with cure by exorcism, healing plants, blood letting
Many area monastic communities became place for treating illnesses. St. Benedict encourage care of sick, but cure only through God. Effects continue for 500 years. He recommended study of Hippocrates and Galen and preserved medical literature, but didn't use it. Techniques of surgery lost replace by cauterization. Pharmacology abandoned and people used common herbalism, folk medicine.
MEDICINE AND THE RISE OF ISLAM (Muhammad 570-632)
First five centuries of Christian era, much of Greek scholarship lost. However, in the 7th century, the new religion of Islam started to preserve remains of ancient scholarship and bring it back into Europe. Arabs had great respect for learning, and became the vessel for ancient Greek/Roman learning. They translated and extended the ancient knowledge, especially in philosophy, math and science.
after Muhammad, Islam swept in Mid East and into Africa, Spain, and parts of France, with earliest center in Baghdad. Aristotle, Hippocrates, and Galen translated into Arabic. In Egypt, hospital of Cairo probably most advance in the Christian or Moslem world.
Arabist (Arab, but also Persians, Jews, and Christians who lived or moved to region) responsible for establishment of pharmacy and chemistry as science. New drugs became part of pharmacy. New methods to extract drugs and preparing them developed - distillation, crystallization, solutions, sublimation, reduction, calcination. Modern chemical terms derived from Arabic include alkali, alcohol, as well as older terms of elixir and syrup.
strong emphasis on clinical instruction, and described many disease much better than predecessors.
development of efficient hospitals far exceeded anything before its time.
Disease thought to be punishment from Allah. Seek miracles but also divine help through physician. Since there was afterlife, and a vital life spark remained in dead body, forbade dissections. Relied on Galen for knowledge of anatomy.
Diagnosis based on: behavior, excrement, swellings, kind and location of pain, characteristics of urine. Properties of pulse noted. Astrology had role since influence of stars part of science.
Surgery held on low regard. Muslim lab forbade dissections. Cauterization most common technique. Use sponge filled with narcotic-like substances for anesthesia. Did do cataract surgeries.
Wide use of drugs.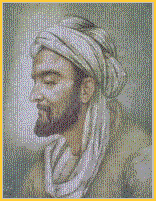 Equal to Galen in both Islam and Christian world. Boy prodigy. Principle contribution as compiler and commentator. Wrote 100 books, most famous The Canon, which was basis for much medicine, even until mid 17th centuries in Christian Universities. Tried to reconcile Galen with Aristotle.
MEDICINE AND THE RISE OF UNIVERSITIES
Real medical education established in new universities such as Salerno, Monpellier, and Paris:.
Salerno (southern Italy): supposedly founded in 9th century by 4 physicians (a Greek, Latin, Hebrew, and Arab). Open to women as well, most famous legendary Trotula, author of book on obstetrics. Still used Galen anatomy, and physicians dissect animals, especially pigs. 1224, emperor stated that all candidates for licensure must be examined by masters at Salerno after studying logic for 3 yr., medicine and surgery for 5, and practicing under a master for 1.
Surgery: revival of dissections of human cadavers to determine cause of death and learn about nature of disease.
MEDICINE AND THE MIDDLE AGES
Western Europe emerged from dark ages about 1000 AD, but still another 500 years before middle ages ended. French culture with combination of faith, feudalism, and chivalry model for Europe. Each person had role/function. Mediterranean culture in disarray.
Role of Church - Aquinas: 1225-1274: Such a supporter of Aristotelian thought that his influence lasted through middle ages. Didn't believe Nature did anything unnecessarily; hence everything in Nature had simple explanation. Thought change occurred when the essence of things become expressed (such as an acorn becoming an Oak tree). No being can become something without the inherent potential to do so. Hence all other changes come from God, the power source of all change. Lead to his doctrine of effective causation, which was foundation of Scholasticism, where supernatural had supremacy over Nature. Suppressed independent thought for the rest of the middle ages. Even though Church controlled universities, monastic medicine decline, and hospitals control shifted form the Church to cities.
Aquinas: – rediscovered Aristotle, Christianized his philosophy – basis for later Middle Ages. Summa Theologica. Aim to show harmony btw Aristotle and Christianity. Ethics 2 dimensions: natural and theological. Natural ethics (as from Aristotle) – development of reason and practice in living morally and leads to earthly happiness.. Theological ethics – achieve virtues of faith, hope, and charity through grace which lead to eternal life. Believe in natural lab: divine law as written in hearts of people. – which discovered by reason and cultivated by conscience. Since allow to turn to secular knowledge without guilt, pave way for more scientific view of world
Natural Law - dominant theory in Christian thought

world is rational order with values and purposes built into its nature (from Greek thought) - teleological. Aristotle 4 ?: What is it; What's it made of? How did it come to exist: What is is for? (Plants for animals, etc - Nature make all ultimately for man. - anthropocentric. Christians liked but add God - God made things for purpose, including values
(corollary) Laws of nature describe how things are and ought to be. Drought natural evil; Some ways behaving natural (derived from nature), other unnatural and morally wrong; supports beneficence but others more contentious as well - sex zb.

Moral judgments dictates from laws of reason which grasp since God, author, made us rational. Religious believer no special access to moral truth. all must reason. Aquinas most influential natural law theorist: moral life lived "according to reason" (Summa Theologocia) Conscience as voice of God (but not apparent to disbeliever)
Medicine: physicians available to upper classes, masses rely on folk medicine with concoctions and magic. Establishment of guilds which people would join (such as Artist and Physician guilds)
Crusades: generated hospitals and orders for healing. the "hospitalers" assisted victims of epidemics resulting in part from return of Crusaders.
Disease:
- leprosy : found in low levels before Crusades, but after return epidemic levels. Disease include many skin diseases, of which some were contagious. Victims ostracized, had to wear certain clothes, worship separately.
- Black Death (pneumonic and bubonic plaques) : Known previously but reappear in 1347 as it moved west from India and SW Russia with Crusaders. Most of them died on route home. When reached Italy, started an epidemic which spread all the way to Greenland. Within 1 year, 1/4 of European population dead. Higher in certain locales (Marseilles - 4/5). Start general dissolution of society and end of middle ages, as well as growing nationalism, influx into cities. People lost faith in both government and church, adopting new beliefs/trends to replace them. Astrology, black magic, search for saint relics, search for magic holy waters common.
Physicians and Treatment: major development in Middle Ages was the regulation of physician training, ideas of contagion, and the care of very ill and unwanted. Diet important, drugs heavily used, especially plants. Mysticism more prevalent, even as science used more. Astrology and devil used to explain disease. Remedy often exorcism. Combination of science and mysticism; Treat imbalance of humors by bloodletting. Surgeons branch out into two groups, those with greater education and the barber, who performed tooth extractions, minor operations, and setting bones.
MEDICINE AND THE RENAISSANCE
Many factors drove the changes that became the Renaissance: a desire to return to cultural ideas of ancient Romans and Greeks, the invention of the printing press which decrease the cost of books which also became available in the vernacular, the development of trade resulting from the Crusades and the development of local industry, leading to a money economy, and the discovery of sea routes to India and America. After Turks capture Constantinople in 1453, a large influx of Greek scholars into northern Italy occurred. The Universities there (Bologna, Padua, etc.) attracted scholars from all Europe. The best publishing houses developed in Florence and Venice. Northern Italy was also the western end of the Silk Road, from which goods were transported to and from China. The arriving Greek scholars de-emphasized Aristotle, Galen, and Scholasticism, while supporting Hippocrates and open observation. With the 17th century and the Age of Scientific Revolutions, major intellectual shifts occurred. People shifted to asking how things happen rather than why they occur? Speculation was replaced with experiment, and interpretations became mechanical. Three forces had to be dealt with:
Aristotle, where chance not a factor, but where purpose was not obvious and could be determined
Galen, where search for facts, clouded by preconceptions and misconceptions, was important. He disrespected authority except Hippocrates and himself. His desired to see for himself was not used by his followers who blindly followed him.
Paracelus, who opposed Galen and Avicenna, and emphasized observation and experience, but whose own system was astrological. He did presume the body to be a chemical machine, and popularized use of minerals, not just plants in treatment.
opposed the teachings of Galen and burned copy of the standard text of the day, Cannon of Medicine, by Avicenna.
lectured in vernacular (German), rejected organized religion and classical scholarship.
opposed the leading medical theory: disease is result of imbalance of four humors (body fluids) - blood, phlegm, choler or yellow bile, and melancholy or black bile - in relation to composition of the person. Implies that as many different illnesses as people, and that disease not caused by agent and don't have specific anatomical effects.
in contrast, said disease caused by outside agent and have an effect on a specific anatomical site.
Traditional medicine treat disease by by causing sweat, purging, bloodletting, inducing vomiting; Parcacelus tried to find specific substances to cure disease.
He produced new substances to treat disease as an alchemist, not as a modern chemist., since he believed in three principles (salt, sulfur, and mercury) which possessed spiritual properties.
his work helped to turn alchemy away from turning elements into gold into finding "drugs" to treat disease
opposed build up of medical system based on anatomy and physiology; opposed most organized schools of thoughts. .
VESALIUS - 1514-1564
father of modern anatomical science; inaugurate reform of anatomy and teaching
1537 taught surgery and anatomy at U. Padua, where he did dissections himself rather than have surgeons do it
1539, judges allowed the dissection of corpses of executed criminals, allowing him and others to make great progress in anatomy
1543, wrote De Humani Corporis Fabrica (on the Construction [fabric] of the Human Body), with great plate illustrations.
said that the body must be studies directly, not just by reading
from his dissections, showed that Galen's anatomy of humans was based on studies of animals and not accurate for humans
tried to convince doctors and anatomist of inadequacy and errors in Galen's work
didn't have the impact of others since he did not attack Galen or his doctrines directly; criticized only Galen's writing on anatomy and not the Galenic system of medicine.
for example: didn't finds pores in the heart which allow blood to ooze dropwise from the "arterial vein" (or modern pulmonary artery, which takes deoxygenated blood from the heart to the lung) into the "venal artery" (pulmonary vein, which carries oxygenated blood from the lung to the heart.). [Remember, veins except the pulmonary vein, carry deoxygenated blood from the body back to the heart.] These pores, part of Galen's heart physiology, do not exist.
revolutionary in that his studies that showed blood is pumped by the heart in a single, closed mechanical system through veins and arteries, and not in imagined paths;
established new basis of human anatomy and physiology, replacing 15 centuries of Galenic medicine .
teacher included anatomist Fabricius, who discovered valves in veins.
major book, De Motu Cordis (1628) describes circulation of the blood., one of the most important works of the 17th century, revolutionized biological and medical thought in 3 ways:
- firm establishment of experiment and observation to advance biology and life sciences
- introduced quantitative reasoning to study life processes
- ideas of blood circulation
recognized that vein valves discovered by Farbricius allow only one way flow of blood through veins.
valves suggests pump, so Harvey treated the heart as a pump.
heart acts by contracting (when blood is expelled) and expanding. (when blood is pulled into the heart)
Harvey show: blood forced out of left ventricle into aorta, then into arterial system, Blood return to heart though veins in right ventricle. Then moves to right auricle and then through pulmonary artery to lungs. From there it flows back by pulmonary vein into the left auricle , then the left ventricle. The cycle is then repeated. Confirmed by experimentation, observation, dissection, correcting an error held for 2000 years. Studies 80 different species.
used mathematics to explain biology. Determined capacity of heart, (volume pumped per minute) which when multiplied by the number of beats per minute gives the total volume pumped by the heart in one minute. He fund that 164 lbs. of blood is pumped from the heart into the arteries each hour, which is "more blood than the ingested food can supply, or that all the veins together at any give time can contain". Therefore blood flow had to be in a circuit.
Harvey did not know about capillaries, which were discovered later by Malpighi.
revolutionized biology but not necessarily the practice of medicine.
DESCARTE - 1637
believed true science would advance medicine and technical arts; would be a utility to life and allow one to master nature.
argued that greatest principle of common sense: "All things which we cleanly and instinctively conceive are true".
From I think, therefore I am (cogito ergo sum) (i.e. an intuition), that a consciousness of his own thinking proved his existence, he argued for existence of God.
God made two classes of substances:
- thinking substances or minds and
- extended substances or body
part of blood was a fluid called animal spirit, that came into contact with thinking substances in brain, and flowed over channels of nerves to animate muscles.
BASIS OF MODERN MEDICINE
Germ Theory of Disease - Infectious Disease
The Emergence of Modern Medicine in America in the 19th Century:
Post-Genomic Medicine
Guides to Use of Medical Literature
In analyzing the results of a published medical study, you must have confidence that the results of the study are valid - i.e. that they conclusions follow directly from the observations - and that you understand the results of a treatment. Consider an article published in the Journal of the American Medical Society (1993) 270, pg 2598-2601 entitled, "How to Use an Article About Therapy and Prevention" and "How to Use an Article About Harm", JAMA (1994) 271, pg 1615-1619.
Are the results of the study valid?: Do the results represent an unbiased estimate of a treatment's positive effects or of a potential toxic effect of exposure or have they been influenced in some systematic fashion to lead to a false conclusion? Several factors must be considered?
A. Where there clearly identified comparison groups (experimental vs. control) that were similar with respect to important determinants of Outcomes other than the one of interest - i.e. the dependent variable? Three kinds of trials have been used in such assessments:
Randomized Control Trials (RCT) - An experiment in which patients are assigned in a random fashion to the experimental group (i.e. given a treatment of unknown efficacy) or control groups (i.e. for a treatment study, given a placebo or standard therapy). RCT are rarely used for harm studies. The power of RCT stems from the fact that patients are randomly selected which raises the probability that experimental and control groups are identical except for the experimental treatment.
Cohort Studies - Used when it is impossible or unethical to perform a RCT. In this study the investigators identifies two groups of people: one using a particular treatment or exposed to a potentially harmful agent and another not using the treatment or not exposed. The participants are followed to determine difference in effects of treatment or exposure to harm with time. An example would be to select men (or women) exposed to toxins in a given industry and assess the health status of their children. Alternatively, cohort studies can be done when the outcome is infrequent. Since the people in the study are not randomly picked (since they pick themselves or are picked by doctors), members of the exposed group may be different in other characteristics from the control. Investigators must show that the groups are similar (except with respect to the dependent variable) or use statistics to adjust for any differences. (For example, a study for GI bleeding in people who take non-steroidal anti-inflammatory drugs (NSAID) should be controlled for age, since increased age as well as increased use of NSAID are associated with GI bleeding.) Even then other confounding variables might be associated with the effect, such as if illness for which people use NSAID might cause GI bleeding
Case Control - Used if outcome very rare or takes long to develop. Investigators select people with specific outcome and then chooses controls without that outcome but as similar in other ways to experiment group (ex: identical in age, sex, weight, etc). then ascertain past exposure to therapy or toxins in both groups. (For example, show association between DES intake by pregnant women and development of cancer in their daughters.
Case Reports - Do not use control groups and are merely descriptive.
B. Were the exposures to potentially toxic agent and the outcomes (of RCT and cohort studies) measured the same in both experimental and control groups? For example, in a case control study, when asked about prior exposure to solvents, patients in the experimental group (with leukemia) might be more likely to recall and report previous exposure because of greater motivation (recall bias) or greater probing by an interviewer (interviewer bias). Exposures to potentially toxic agents should also be for a similar length. In a cohort study, a three-fold increase risk of cancer in radiation workers might be explained by a physician who was aware of the risk doing a more thorough assessment of the patient which might detect disease earlier or disease that would ordinarily go undetected (surveillance bias).
C. Were the patients available for follow-up for a sufficiently long enough period of time? If patients are not available for follow-up, the validity of the study might be compromised since that that remain available might have different prognosis than those who aren't available.
D. Were patients analyzed in the groups to which they were randomized? If someone in a experimental group taking a drug become noncompliant and don't take the medication, they should not be excluded from the analyses. Often these patients fared worse. Excluding them (while leaving similar patients in the control group) leaves behind those who might have gotten better, and removes the unbiased nature of the RCT.
E. Were patients, clinicians, and study personnel "blind" to treatment? If a patient knows they are on a new therapy, they will have an opinion about its efficacy, as will the practitioner and others involved in the study. The opinions can systematically distort aspects of the treatment, reporting of outcomes, and introduce bias of the medical personal into the assessment of the treatment efficacy. Best way to avoid is performing a double-blind study (for drug studies, using a placebo for the control group and target drug for the experimental group).
BIBLIOGRAPHY
The information for the time line and descriptions come directly and often verbatim from a variety of sources, including:
Butterfield, H. The Origins of Modern Science. Free Press, 1965
Lyons, A. and Petrucelli, R. Medicine: An Illustrated History. Abradale Press, 1987.