Itinerary
Rome-Florence-Munich
Arts & Ideas

July 19 - August 7, 2012


<![if !vml]>

<![endif]> <![if !vml]>

<![endif]>
Picture yourself landing in one of Europe's most magnificent capital cities, settling into a student hotel right in the center of the city and taking in the wonders of Italian culture. Within the first couple days you will explore the splendors of Rome's Classical, Renaissance and Baroque art and architecture -- The Coliseum and the Roman Forum, the Pantheon, Saint Peter's Basilica and the Vatican, the Sistine Chapel, the Spanish Steps, the wonders of Giotto's, Michelangelo's and Caravaggio's greatest works, the Trevi Fountain. Here you can discuss how art and architectural forms came to be and the political purposes they served.
Picture yourself heading through Umbria to medieval town of Assisi and through the beautiful Tuscan countryside to a magical vineyard where you will learn about the secrets of Tuscan winemaking. Now you can enjoy something of small town culture and discuss how art forms from the capital city and Florence made their way into the countryside of Italy. After exploring the exquisite Tuscan city of Florence and the Mediterranean village of Monterosso in Cinque Terre, we will break for several days to allow you to explore Italy and parts of Southern Europe in small groups, further expanding your experience and knowledge of the Medieval, Renaissance, and Baroque cultural movements.
Finally, we will gather for a final three days of seminar in the Bavarian capital of Munich, where we will compare and contrast these art and architectural movements in their manifestations on the other side of the Alps. Here is our itinerary. Join us for the trip of your life!
Program Itinerary 2012
Day 1 Depart from Minneapolis at 3:05 PM. Departing July 19

Day 2 Arrive in Rome where we will live for three days.

Day 5 Travel to Assisi and through Tuscany to Florence, where we will stay for two overnights. Group Mass at the basilica of Saint Francis.

Day 8 Beginning of small-group travel. Train to Cinque Terre or to other places in Italy (e.g. Venice, Luca, and Pisa), elsewhere in Europe (Interlaken, Salzburg, Vienna, Prague). Most everyone wants to go to Cinque Terre first. Please let me know if you do not want this option.

Day 10 Most students begin their small group travel to Interlaken, Venice, Prague, and other places East and North.

Day 17 Group gathers in Munich about 5 pm to resume the seminar for three days. Asamkirche and outdoor dinner nearby.

Day 18 Group Mass, Dachau concentration camp and bike tour of Munich.

Day 19 Free day -- Students often go to Neuschwannstein. Bavarian evening at the Hofbräuhaus.

Day

20

Flight back to Minneapolis from Munich. Arrive in Minneapolis

at

6:00

P.M.
Day by Day
Day 1: Depart USA — Arrive at Minneapolis-Saint Paul airport at 3:05 pm.
Day

2

:

Arrival in

Rome

and Hotel

Smeraldo

about

11 a.m.

Walk to Campo di Fiori and the Coliseum.

Walking Tour through Ancient Rome -- the Coliseum, Forum, Capitoline Hill, and Pantheon, ending up at the magnificent Baroque square, Piazza Navona.

Group dinner at

a wonderful Roman

Restaurant at around 9 p.m. and

further

sightseeing around

the Campo de' Fiori

area.

Your first taste of true Italian gelato!

Here's a map of

our hotel's location

.
Day 3 -- Tour of the Vatican Museums and the Sistine Chapel. Tour of Saint Peter's Basilica and small group explorations of the sites of Rome
Day 4 — Possible Mass with the Pope and more sites you have marked on your Top Ten maps.
Day 5 — Early departure for the medieval town of Assisi. Hotel Fontebella.
Day 6 — Group Mass at the tomb of Saint Francis. Noon departure for a Tuscan vineyard and olive grove, and then on to Florence, where we will stay at a hotel near the market square. Group dinner at the wonderful restaurant, Trattoria Za-Za in Florence.
Day

7

—

Guided walking tour through the art and architecture treasures of Florence. Michelangelo's David and other sculptures and Byzantine icons at the

Academia Museum.

Chance to climb the Duomo (cathedral dome) and study the church, baptistery and bell tower.
Day 8 -17 — Small-Group independent Travel. Most group members will want to head to the coastal town of the Cinque Terre, about two hours west of Florence. I have reserved apartments at the hotel there. Let me know if you choose a different alternative during these two days. After the coastal experience, here are just a few of the places you can plan to visit together with one or two other group members: The beautiful Italian cities of Pisa, Venice; Switzerland and the Alpine town of Interlaken; the wonderful cities of Salzburg, Vienna, and Prague; the Romantic castles of Bavaria. I will be on hand to help you make arrangements. The books Let's Go Europe and Lonely Planet Europe are excellent resources. NOTE: If you want to stay in Interlaken, Switzerland, past group members say you MUST reserve spots at Balmer's Youth Hotel well ahead of time. It's easy: Go to http://www.balmers.com/ You can always change your arrival date if you need to, but you do not want to get caught without a place to stay!
Day 17 — Arrive in Munich and settle into City Hotel Munich, near the train station. Here is a map of our hotel's location for you to print out. Once we are settled, we'll go on a bicycling tour! through the beautiful city center of Munich and through the magnificent Englischer Garten.

Day 18 -- Sunday morning Mass in our hotel. Visit to the beautiful baroque Asam Church for drawings and reflections. Free time for small group explorations at the Concentration camp at Dachau. Mid-afternoon bike trip through Munich!

Day 19 — Seminar Wrap-Up and free time. Last full day in Europe. Evening dinner and show at the Hofbräuhaus in Munich!

<![if !vml]><![endif]>
Day 20 -- Early breakfast and 7 AM departure for 10 A.M. flight out of Munich with Delta Airlines . Arrival in Minneapolis at 6:00 PM on August 7.
<![if !vml]>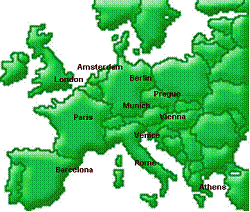 <![endif]>
For your independent travel time, students have found that purchasing tickets on site is a good way to go.
BUT If you want the convenience of the Eurail Pass, here is the cheapest site I have found: http://www.eurail.com/?gclid=CO70xrzrvYwCFRUHWAodzRLvag Look for Select Pass and Youth Discount.

It looks like anyone under 25 is eligible for the youth passes, which would mean people could probably get 4 countries, 5 days passes for about $400. The days need not be consecutive. Here's a youth pass for 3 countries: http://www.eurail.com/eurail-select-pass-3-countries?currency=eur&tab=1 IT'S MUCH CHEAPER TO PURCHASE YOUR EURAIL IN THE USA. Switzerland-Austria-Germany are a common set of countries to purchase. If you plan to go to Venice, I would add Italy to that list.
e-mail Fr. Mark