"Rengi Marauder"


a.k.a. Ferengi D'Kora

Macro Trek


ST:NG

Kit Parts
Dorsal | Ventral 1 | Ventral 2

Stated scale:

1/1400

Actual scale:

unverified





Overall length:

Material(s):

resin

Number of parts:

6

Stand included?

yes

Decals included?

yes

My Source:

Rider's Hobby
Grand Rapids, MI

Cost (w/o s&h):

$70

The "Rengi" Marauder is in fact the Ferengi D'kora starship from ST: TNG. Macro Trek's kit is a reasonably faithful model of it, with very good topside detail. The casting is somewhat thin in some of the engine areas, requiring reinforcement. I superglued a thin square of sheet styrene on the inside surface. It includes a conjectural fighter (at left on box art) which docks into the bottom of the ship's neck. Decals are peel'n'stick printouts, very poor in quality and very inaccurate in terms of color. The underside opening requires extensive routing out so that the keel piece will fit in place, though in places there are gaps of up to 1/8".
3/19/2009 - After some more extensive routing of the main body piece and thinning of the keel piece's edges I got the keel to fit reasonably well into the body. I used 5-minute epoxy, C-clamps and F-clamps (F as in "finger") to secure the keel in place.
3/29/09 - Attached the claws and ?conning tower? - whatever that top center piece is - and epoxied in that supposed fighter craft. And that great awful seam around the keel piece is getting its first dose of putty.
8/8/2009 - On again, off again... and now on again. The saga of endless puttying is finally at an end, perhaps.
Where else but in a model geek's kitchen could you find a Ferengi starship draining in the sink after a good cleaning?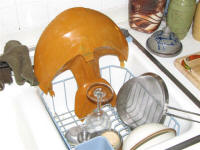 8/9/2009 - Primed! And now for the inspection, sanding, and any touch-ups needed on the putty.
9/1/2009 - And painted, with its first coat of color.
I used the same mix as I used for the Ferengi Pod.
3 parts Insignia Yellow
2 parts Radome Tan
1 part Insignia Red
1 part Leather
(all colors are Model Master enamels)
9/7/09 - Did some 400-grit wet-sanding on the first paint coat to start getting it ready for a 2nd coat.