Ferengi "Pod of Acquisition"

Starship Modeler
Various TNG, DS9, Voy episodes

Stated scale:

1/35

Actual scale:

unverified

Overall length:

Material(s):

resin

Number of parts:

3

Stand included?

no

Decals included?

yes

My Source:

Starship Modeler

Cost (w/o s&h):

US$25

7/10/06 - In a rare attempt to build & finish a model soon after I get it, I'm taking this on. Who knows, it could be a "Model in a Month."
After making some registration pins / holes for the front fins, on they went. Assembly done!
There were a couple scuffed areas on the model; putty covers those now. One pour stub on the leading edge was easy to remove. The other stubs were on the fin - fuselage mating faces.
7/11/06 - Once the fins were firmly set, I injected green putty around the edges with a sawed-off hypo. Off to dry for a week, now...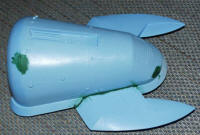 7/19/06 - Wet-sanded, filed, and re-puttied areas as needed.
7/24/06 - Ditto. Hopefully this will be the last round of putty/sanding.
7/25/06 - It was. Did the final sand & file, then primed the model. After inspection, no further putty work is needed, so it's on to painting.
7/27/06 - After some experimenting with paint mixes, I settled on this as a fair replication of the on-screen main color of the pod:
3 parts Insignia Yellow
2 parts Radome Tan
1 part Insignia Red
1 part Leather
(all colors are Model Master enamels)


7/28/06 - Painted the fins a 1:1 mix of SAC Bomber Green and Field Drab. Used black acrylic gloss for the viewport. Impulse engines were painted with pearl and metallic acrylic. Applied decals using Micro Set.
7/29/06 - It's finishing day. First I applied thinned leather and black along lines, around edges & such. I feathered out & mottled the grime layer with brush, cotton swab and the trusty old fingertip. I applied panel shading using earth-tone pastels in the ochre to rust range. I shaded the fins with dark and light gray chalks.
I laid down strips of Post-It material leaving small gaps between them, brushed in dark gray chalkdust, then removed the strips and lightly brushed over the line to soften them slightly. I then brushed light gray between the darker lines.
And in 19 days! That's a record, I think.