Fine Molds'
Jango Fett's Slave 1


Stated scale:

1/72

Actual scale:

unverified

Overall length:

Material(s):

styrene

Number of parts:

122 gray; 4 clear

Stand included?

yes, 4-part

Decals included?

yes, 30 waterslide

My Source:

Cost (w/o s&h):

¥6800 (~US$62)

Side by side, Boba's Slave 1 (the old MPC kit) is on the right ; Jango's is on the left.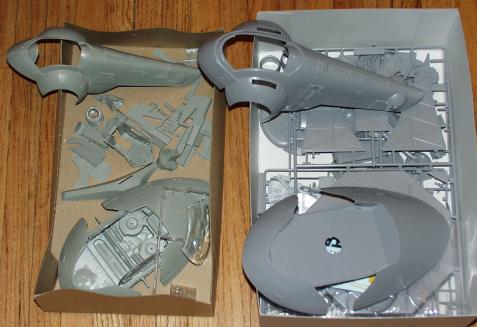 And this is sorely lacking updates.
7/8/2010 - A couple years ago, I assembled the turkey leg, the interior, and some other sub-assemblies. I've painted some of those. The back panel is light ghost gray, the skirt has blue angel blue on it. I'll need to check notes for what green I used on the leg. Insignia yellow is on the detail panels.