Parte the Fourthe
Painting & Detailing
The first round of painting on the parts was for overall color of the body, head, and legs - Model Master (MM) neutral gray. I masked off the appropriate areas with blue painter's tape prior to airbrushing the darker panels with MM F-15 gray, a darker F-15 gray & black (3:1) mix, and dark ghost gray. I temporarily attached the strut bay covers so they could be masked & painted at the same time as the body. The walking claws and laser cannon areas are Metallizer gunmetal. The leg struts are Metallizer stainless steel and neutral gray. The "V" section of the struts would later be painted black. The larger body-end piece (spare Nostromo leg parts) would be removed, since it wasn't necessary for placement of the struts.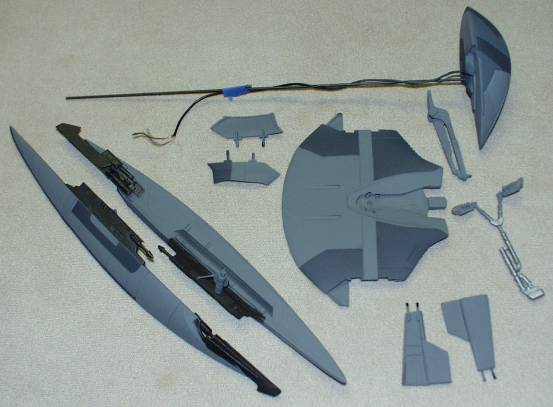 detail colors and triangular insignia were painted Blue Angel blue, and a camo gray/white (1:1) mix. The "shadow bars" are Tamiya transparent acrylic smoke. The body's hexagon markings are ALPS-printed decals (black on white decal stock).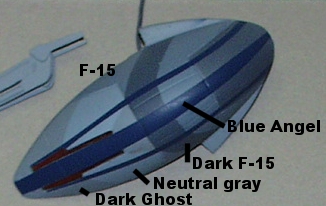 Large images: painted parts topside and underside.
Weathering
Now the fun begins - dirtying up a nice, clean paint job. The weathering was done using a variety of techniques – X-acto scraping, sandpaper scuffing, pastel dusting & streaking, and black acrylic stipples / washes. After I finished all weathering, I gave the non-metallized ares of the parts a couple coats of Testors Dullcoat.