Claude Debussy/ Gabriel Fauré (2010)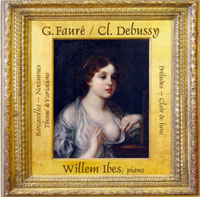 When in the autumn of 1952 I walked up the Champs Elysées and descended the Avenue de la Grande Armée to have a first meeting with Marguerite Long, I knew French composers almost solely by name and, after my first lesson with Mme Long a few weeks later, I had to realize - as my teacher did - that I was a hopeless case. Bach, Brahms, Beethoven yes, Fauré and Debussy, never. Or so it seemed until the spirits that hovered over this custodian of French pianism (that is how Madame Long liked to think of herself!) kept knocking on the door of my heart and I felt called upon, so many years later, to try and appease them once and for all. One of my colleagues and dear friends wrote me a note praising the recording and telling me he had to wipe his tears away listening to it. That should do it for Fauré and Debussy and …me!
Click on the links below to download FREE sample tracks!
CD Contents
Gabriel Faure 1845-1924
Barcarolle No. 6 in E-flat major, Opus 70
Barcarolle No. 3 in E-flat major, Opus 70
Barcarolle No. 1 in E-flat major, Opus 70
Nocturne No. 2 in B major, Opus 33 No. 2
Nocturne No. 4 in E-flat major, Opus 36
Nocturne No. 6 in D-flat major, Opus 63
Claude Debussy 1862-1918
Clair de lune (from Suite bergamasque)

From Preludes Book I & II:
La fille aux cheveux de lin (The girl with the flaxen hair)

La cathedral engloutie (The engulfed cathedral)
"General Lavine" - excentric Bruyeres (Heath)
"Les fees sont d'exquises danseuses" (Fairies are exquisite dancers)
Buy now: Claude Debussy/ Gabriel Fauré