Beethoven: Sonata Opus 101 "Immortal Beloved" (1998)
This CD features a first attempt to translate my discoveries concerning the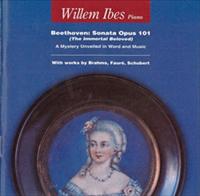 Immortal Beloved in sound. The booklet details how I arrived at my understanding of her identity and how the name "Dorothea" permeates the work from beginning to end. In fact, the whole sonata develops seamlessly out of the motif contained in the first two measures. I have had to make an Herculean effort to not fall victim to "the romantic virus" and some of that effort shows; but at least the "silences of articulation" are in their proper place (mostly) so that Beethoven's great love-paean becomes intelligible. I prefer my later recording of the work (in "A Beethoven Triptych") but there is in this present album the undeniable excitement of a first love. Brahms fine set of character piece (Opus 118) and a sampling of Fauré's lovely Nocturnes bring us back to the early Romantic poet of the piano, Franz Schubert. The Impromptu in Gb Major sums up in its few, unsurpassed pages the essence of the romantic temperament and sensibility.
Click on the links below to download FREE sample tracks.
CD Contents
Ludwig van Beethoven 1770-1827
Sonata in A major, Opus 101 "Immortal Beloved"
Johannes Brahms 1833-1897
Klavierstuecke, Opus 118
Download Opus 118 #1 & #2
Gabriel Fauré 1845-1924
Nocturne in A-flat major, opus 33;
Nocturne in E-flat major, Opus 36;
Nocturne in D-flat major, Opus 63
Franz Schubert 1797-1828
Impromptu in G flat major, Opus 90 No. 3