UNESCO Recital (1990)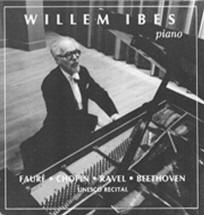 In the fall of 1990 I was invited to give an address, to an overflow crowd, in the Grande Salle of the Unesco in Paris for the opening of the first International Congress on Haptonomy, to be followed by a piano recital. The address was entitled, "Music: the Fullness of the Present". The recital which took place that same evening is represented on this disc. The Washington Post, commenting on this CD wrote "… all interpreted with a style and grace to match his sure-handed, unobtrusive technique. In his notes of the Beethoven he (Ibes) says 'that it journeys to that world … where time seems to have ceased.' His performance makes it sound that way."
Click the links below to download FREE sample tracks.
CD Contents
GABRIEL FAURE
Barcarolle in E flat Major Opus 70
Barcarolle in A Minor Opus 26
Nocturne in B Major Opus 33 No. 2
FREDERIC CHOPIN
Nocturne in D flat Major Opus 27 No. 2
MAURICE RAVEL
Le Tombeau de Couperin
Prelude
Fugue
Forlane
Rigaudon
Menuet

LUDWIG VAN BEETHOVEN
Sonata in C Minor Opus 111
Maestoso - Allegro con brio ed appassionato
Arietta: Adagio molto semplice e cantabile
Buy Now: Willem Ibes, UNESCO Recital