How I Get Paint Out of a Spray Can
---
DON'T TRY THIS AT HOME! ADULTS ONLY. DON'T DO ANYTHING STUPID. WEAR EYE PROTECTION AND BODY ARMOR. AND ALL THOSE DISCLAIMERS.
Hypothetically... spraying a spray can upside down (outdoors!) will bleed off the pressurized propellant. The can gets cold. I let the can warm up. Repeat. Until I can't hear a hisssss when I hold down the sprayer valve. I wait a few days & do this again. Make sure there's no hissss.
Next step - I get a section of newspaper and a plastic drinking cup or clean, empty can that can hold about 3-4x the volume of paint in the spray can. I rolled the can up inside the newspaper and laid it down on its side. Nail. Hammer. Poink. AND I DON'T MOVE ANYTHING. Gently remove the nail. Keep the can in the same position and unroll the newspaper from it. Don't agitate the can in the process. Hold the can over the cup and roll it over. The paint will spew out of the hole and hopefully into the cup. And it will froth and bubble up as propellant dissolved in the paint comes out of solution. Let the cup stand for a day or two until you no longer see bubblishness when you agitate the cup. Pour the paint into a bottle and let the solid settle out for a week or so. Pour off the solvent. Eventually I get a paint suitable for airbrushing.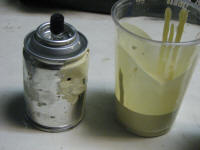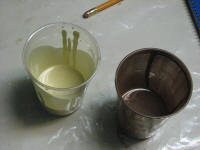 text
---
---
The Model Citizen's "Sprue U" pages are �2000-present Roger Sorensen
page URL: http://employees.csbsju.edu/rsorensen/modelcitizen/sprue_u/130.htm
last updated 22 March, 2010