Parte the Thirde
Legs Struts
The struts and linkages that connect the leg to the body are scavenged from spare landing gear and various other cylindrical parts, detailed with additional styrene stock. Once I had parts for one strut, I made an RTV mold and cast the struts used on the model out of urethane resin. The casting for the body strut was reinforced with wire.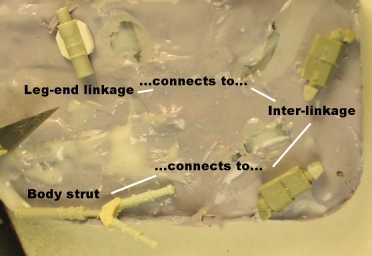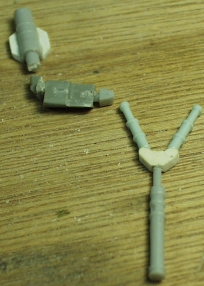 Legs
The legs from the starfighter were lacking in detail and were too thin. I removed the walking claws so they could be detailed and placed in proper walk-mode position. The existing claw actuator detail was way underscale, so I replaced them with parts made from sheet & rod styrene, small springs, metal wire, and parts box pieces.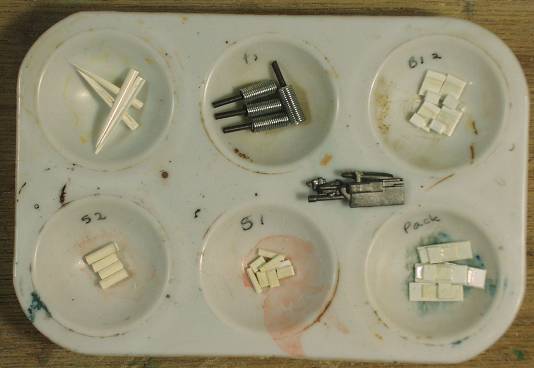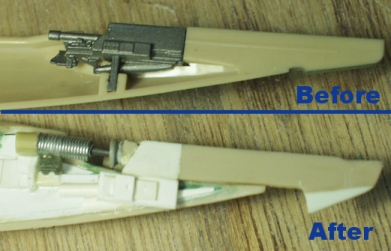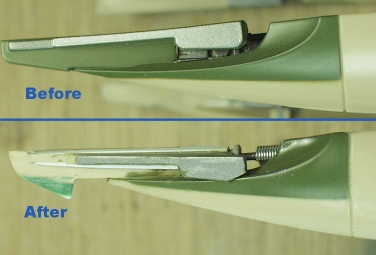 I built out the inboard surface and edges of the legs with sheet styrene to the proper thickness and re-detailed to match the detail shown in the cross-sections book.
First, I cut and installed the three layers that would build up the inboard surface:
.06" sheet to build up the area and form a base for later layers and .06x.1" strip styrene to build up the center edges of the wing/leg.

.02" sheet - first detail layer

.02" sheet - second detail layer

.02" sheet - a triangular ring at the aft end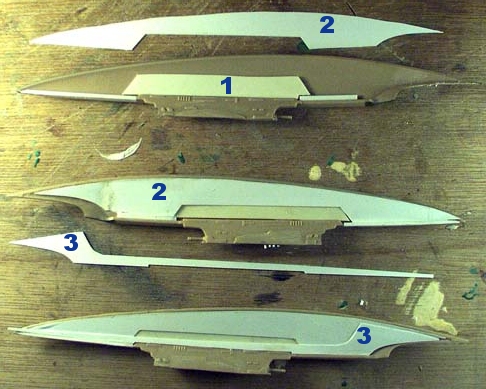 After the sheet panels were installed, I scribed panel lines into them. The area in the center of the leg was missing a hefty detail piece. I built these up in 4-plicate by building onto four pieces of .06x.1" strip with details of smaller strip added. I cut the assembly apart and trimmed each piece. The pieces went in place as shown below.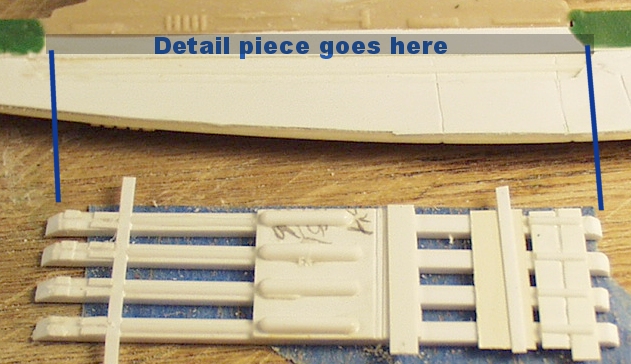 With the addition of a larger gun muzzle and added detailing using small strip and half-round styrene, the inboard legwork was mostly done.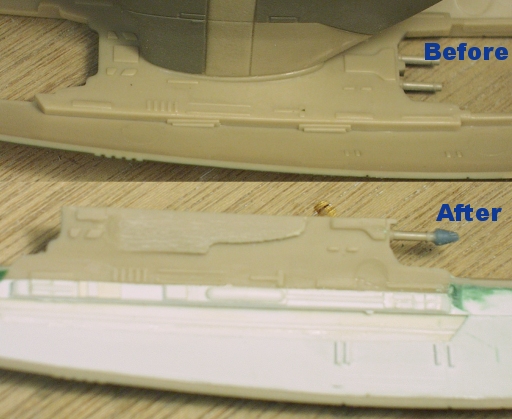 On the outboard surface, I used strip styrene & putty to build out the set of small flanges which had been done simply as engraved lines by Estes. I made the cone-shaped laser muzzles out of styrene rod turned using my Dremel as a mini-lathe and an X-acto knife as a shaping tool. (Same trick I used in making detail bits on my Vulcan Shuttle "Surak")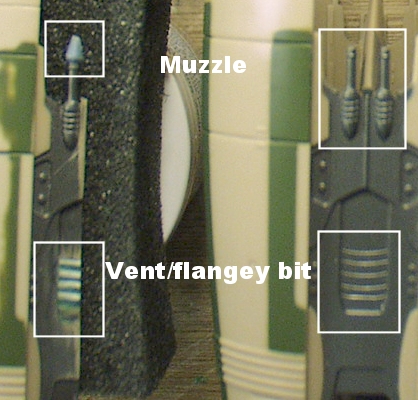 Taking Stock of the parts...

Click the small image to view a larger version.

...and on to
Parte the Fourthe