Imperial Star Destroyer

Anigrand
SW Episodes V-VI

Stated scale:

1/2256

Actual scale:

unverified

The Star Destroyer trio in 1/2256,
and the Imperial's old MPC "mini-me."

Overall length:

39"

Material(s):

resin, PE brass

Number of parts:

50+

Stand included?

no

Decals included?

no

My Source:

Cost (w/o s&h):

Big kit. Insane detail. Gonna have to clear my schedule for the next decade.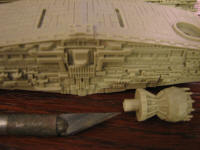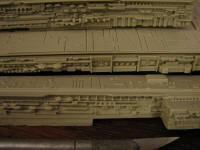 Let's get out the pin vise and micro drill bits.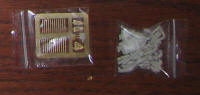 And even an Imperial Lambda-class shuttle in resin and PE brass.
1/13/2010 - Sat back with a DVD on and started nibbling away at the resin stubs.
11/14/2010 - After some major cleaning and de-cluttering in the basement, there I had it: all the stuff cleared off my workroom's island. Time to lay out something big on it. But I started small, with assembly of the command tower. I assembled the two sides and three inset panels using superglue and then banded it up while the CA set.
I think the first step on the 4-panel underside of the main hull should be assembling the two aft left/right panels with the center "reactor core" (RC) panel. This will hold the L/R panels together at the right angle to join them to the forward panel. I clamped the RC panel onto the left aft panel and dripped CA into the inside of the joins, so it wouldn't be dribbling around on the outside surface.
11/18/2010 - Sub-assembly continues, with attaching the right aft panel and nose panel of the belly. More superglue, more clamping. I leave all these assemblies clamped up overnight.
Attaching the belly nose piece - same deal, superglue, clamps, overnight set...
Moving topside, I attached the first tier of the superstructure to the L/R aft topside panels.