CHAPTER 8 - OXIDATION/PHOSPHORYLATION

C: ATP AND OXIDATIVE PHOSPHORYLATION
BIOCHEMISTRY - DR. JAKUBOWSKI
04/15/16
Learning Goals/Objectives for Chapter 8C:
After class and this reading, students will be able to
explain reasons for the strongly exergonic hydrolysis of carboxylic acid anhydrides, phosphoric acid anhydrides, mixed anhydrides, and analogous structures and give approximate values for the ΔG0 of hydrolysis of them;
identify from Lewis structures molecules whose hydrolytic cleavage are strongly exergonic;
explain how the exergonic cleavage of phophoanhydride bonds in ATP can be coupled to the endergonic synthesis of macromolecules like proteins;
draw mechanisms to show how oxidation and phosphorylation reactions are coupled in anaerobic metabolism through the productions of a mixed anhydride catalyzed by the glycolytic enzyme glyceraldehyde-3-phosphate dehydrogenase;
explain how arsenate can double oxidation and phosphorlyation reactions in glycolysis
explain how NAD+ can be regenerated from NADH in anaeroboic condition to allow glycolysis to continue;
explain the general flow of electrons from NADH to dioxgen through a series of mobile and membrane protein bound electron acceptors in electron transport in the mitochondria inner member.
explain with picture diagrams how oxidation and phosphorylation reactions (to produce ATP) are coupled in aerobic metabolism through the generation and collapse of a proton gradient in the mitochondria;
draw pictures diagrams explaining the structure of F1F0ATPase in the inner mitochondria member and explain using the picture how ATP synthesis is coupled to protein gradient collapse
write an equation for the electrochemical potential and use it to calculate the available ΔG0 for ATP production on proton gradient collapse, given typical values for ΔpH and ΔE across the membrane
C3. Aerobic Coupling of Oxidation and ATP Synthesis
A quick glance reveals that we have taken glucose a small fraction along the way of oxidizing every carbon in it to CO2 and H2O. The complete oxidation happens under aerobic condition when the glycolytic pathway is followed by the Kreb's cycle. Pyruvate formed in glycolysis enters the mitochondrial matrix, and get oxidatively decarboxylated to a 2C molecule, acetylCoA by the enzyme pyruvate dehydrogenase.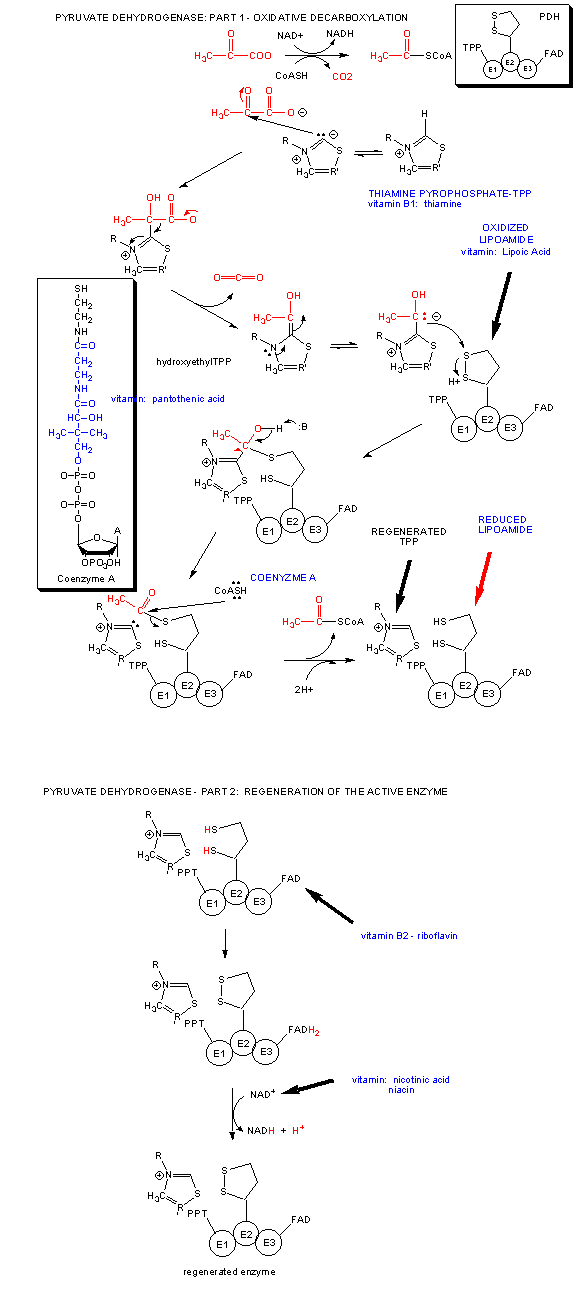 Acetyl CoA then enters the Kreb's cycle (also called the tricarboxylic acid (TCA) cycle. It is shown below.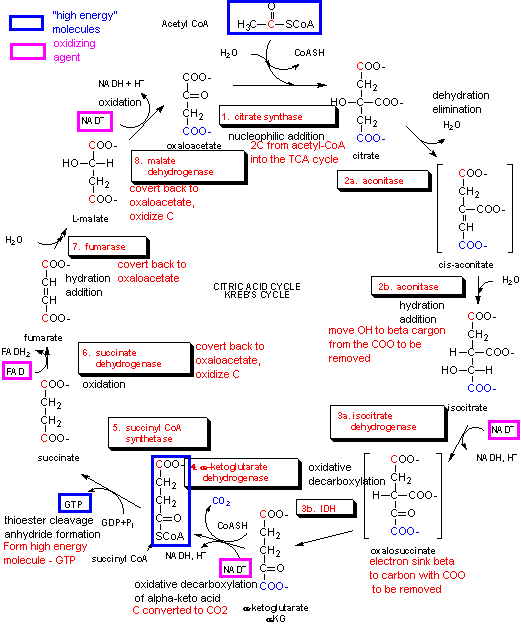 Navigation
Return to Chapter 8C: ATP and Oxidative Phosphorylation
Return to Biochemistry Online Table of Contents
Archived version of full Chapter 8C: ATP and Oxidative Phosphorylation



Biochemistry Online

by

Henry Jakubowski

is licensed under a Creative Commons Attribution-NonCommercial 4.0 International License.