CHAPTER 9 - SIGNAL TRANSDUCTION
B: NEURAL SIGNALING
BIOCHEMISTRY - DR. JAKUBOWSKI
06/10/14
Learning Goals/Objectives for Chapter 9B:
After class and this reading, students will be able to
describe how a transmembrane ion gradient and nongated/gated membrane ion channels specific for given ions can give rise to a transmembrane electric potential across membranes
given ion concentrations and the electrical potential across a membrane, predict likely changes in the membrane potential and ion concentrations on the opening of specific channnels;
use the Goldman equation to predict transmembrane electrical potentials;
state difference between the communication across the neuromuscular junction and a synapse between two neurons;
state the difference between nongated and gated ion channels;
describe different ways to open/close gated ion channels
describe the immediate changes in the muscle cells when acetylcholine is released into the neuromuscular junction
describe the roles of stimulatory neurotransmitter receptors, voltage-gated Na+and K+ channels and the Na/K-ATPase in the activation of a neuron;
explain the mechanism for selectivity of K+ over the smaller Na+ ion in the K+ channel;
briefly explain how membrane protein channels can be gated open by changes in transmembrane potential;
B10. Inhibitory Neurotransmitters:
The main inhibitory neurotransmitters are GABA (gamma-aminobutyric acid, which is made from Glu through decarboxylation of the α-C group) and glycine. The bind to transmiitter-gated chloride channels, which when open hyperpolarize the membrane. Benzodiazepines (like Valium and Librium - anti-anxiety and muscle-relaxing agents) and barbituates (like phenobarbital-hypnotics) bind at allosteric sites and potentiate the binding of each other and GABA.

Updated Chloride Channel Jmol14 (Java) | JSMol (HTML5)
Figure: Mechanisms of Channel Gating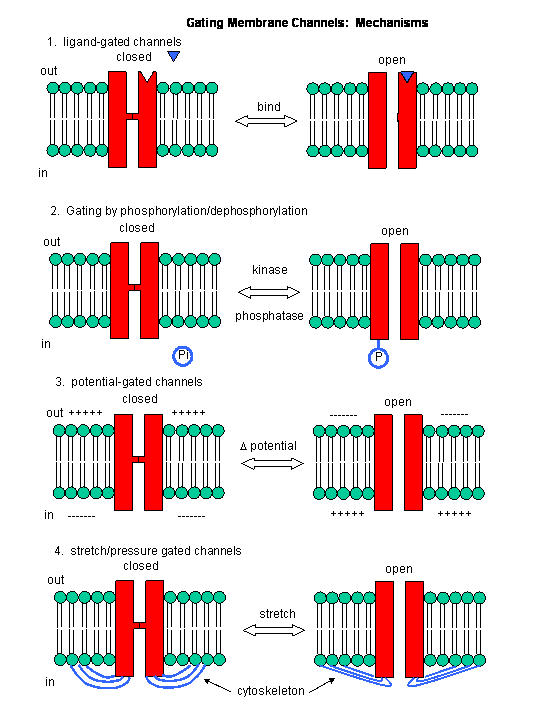 Navigation
Return to Chapter 9B: Neural Signaling Sections
Return to Biochemistry Online Table of Contents
Archived version of full Chapter 9B: Neural Signaling



Biochemistry Online

by

Henry Jakubowski

is licensed under a Creative Commons Attribution-NonCommercial 4.0 International License.