The Minnesota Radon Project is a public service organization helping people with radon problems through research and outreach programs


RETROSPECTIVE RADON DETECTORS: Using the past radon record as an improved guide for the future

Here are some tools to help you to test to see if your house has a radon problem and ways to fix it.

About Us
Radon outreach
We conduct local and regional surveys of RADON (Rn) concentrations in homes, workplaces, and outdoors to assist individuals and organizations assess their environmental radiation exposures. A free hot line (1-800-820-3209) and e-mail are available to people who have questions about radon, environmental radiation and radiation risks.
Radon Science
We investigate the human health risk (lung cancer ) associated with RADON PROGENY exposure, the nature of radon sources, geologies associated with high radon occurrences, and environmental radon transport. We have experience and facilities for a wide variety of measurement services for radon in air and water as well as more general radiological analysis of environmental radiation in material samples or contaminated areas.
Support
The Minnesota Radon Project has received generous support in the past from the Blandin Foundation (of Grand Rapids, Minnesota), the USEPA, the Minnesota Department of Health, the National Institutes of Environmental Health Sciences, and the National Cancer Institute/NIH. .
About us
The project is directed by Dr. Dan Steck (personal web page ). We are located in the Physics Department at St. John's University in Collegeville, Minnesota. Students have been an integral part of the project since its beginning in 1982.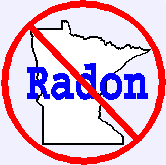 Questions/Comments, e-mail: Dr. Steck
Last revised : 28 June, 2004
Visitor

since 06/28/04
Disclaimer
The views and opinions expressed on the web sites hosted on this server are strictly those of the author.
The contents of the web sites on this server have not been reviewed or approved by the College of St. Benedict|St. John's University.
radon radon detector alpha track detector radon detector radon detector radon gas radon radon radon gas radon gas radon radon gas radon radon radon radon radon radon radon radon radon radon radon radon radon radon radon radon radon radon radon radon radon radon radon radon radon radon radon radon radon radon radon radon radon radon radon radon radon radon radon radon radon radon radon radon radon radon radon radon radon radon radon radon radon radon radon radon radon radon radon radon radon radon radon radon radon radon radon radon radon radon radon radon radon radon radon radon radon radon radon radon radon radon radon radon radon radon radon radon radon radon radon radon radon radon radon radon radon radon radon Minnesota Minnesota Minnesota Minnesota Minnesota Minnesota Minnesota Minnesota Minnesota Minnesota Minnesota Minnesota Minnesota Minnesota Minnesota Minnesota Minnesota Minnesota Minnesota Minnesota Minnesota Minnesota Minnesota Minnesota Minnesota Minnesota Minnesota Minnesota Minnesota Minnesota Minnesota Minnesota Minnesota Minnesota Minnesota Minnesota Minnesota Minnesota Minnesota Minnesota Minnesota Minnesota Minnesota Minnesota Minnesota Minnesota Minnesota Minnesota Minnesota Minnesota Minnesota Minnesota Minnesota Minnesota Minnesota Minnesota Minnesota Minnesota Minnesota Minnesota Minnesota Minnesota Minnesota Minnesota reduce reduce reduce reduce reduce reduce reduce reduce reduce reduce reduce reduce reduce reduce reduce reduce reduce reduce reduce reduce reduce reduce reduce reduce reduce reduce reduce reduce reduce reduce reduce reduce reduce reduce reduce reduce reduce reduce reduce reduce reduce reduce reduce reduce reduce reduce reduce reduce reduce reduce reduce reduce reduce reduce reduce reduce reduce reduce reduce reduce reduce reduce reduce reduce reduce reduce reduce reduce reduce reduce reduce reduce reduce reduce reduce reduce reduce reduce reduce reduce reduce reduce reduce reduce reduce reduce reduce reduce reduce reduce reduce reduce reduce reduce reduce reducing reducing reducing reducing reducing reducing reducing reducing reducing reducing reducing reducing reducing reducing reducing reducing reducing reducing reducing reducing reducing reducing reducing reducing reducing reducing reducing reducing reducing reducing reducing reducing reducing reducing reducing reducing reducing reducing reducing reducing reducing reducing reducing reducing reducing reducing reducing reducing reducing reducing reducing reducing reducing reducing reducing reducing reducing reducing reducing reducing reducing reducing reducing reducing reducing reducing reducing reducing reducing reducing reducing reducing reducing reducing reducing reducing tester tester tester tester tester tester tester tester tester tester tester tester tester tester tester tester tester tester tester tester tester tester tester tester tester tester tester tester tester tester tester tester tester tester tester tester tester tester tester tester tester tester tester tester tester tester tester tester tester tester tester tester tester tester tester tester tester tester tester tester tester tester tester tester tester tester tester tester tester tester tester tester tester tester tester tester tester tester tester tester tester tester tester tester tester tester tester tester tester tester tester tester tester tester tester tester testing testing testing testing testing testing testing testing testing testing testing testing testing testing testing testing testing testing testing testing testing testing testing testing testing testing testing testing testing testing testing testing testing testing testing testing testing testing testing testing testing testing testing testing testing testing testing testing testing testing testing testing testing testing testing testing testing testing testing testing testing testing testing testing testing testing testing testing testing testing testing testing testing testing testing testing testing testing testing testing testing testing testing testing test test test test test test test test test test test test test test test test test test test test test test test test test test test test test test test test test test test test test test test test test test test test test test test test test test test test test test test test test test test test test test test test test test test test test test test test test test test test test test test test test test test test test test test test test test test test test test test test test test test test test test test test test test test test test test test test test test test test test test test test test test test test test test test test test test test test test test test reduction reduction reduction reduction reduction reduction reduction reduction reduction reduction reduction reduction reduction reduction reduction reduction reduction reduction reduction reduction reduction reduction reduction reduction reduction reduction reduction reduction reduction reduction reduction reduction reduction reduction reduction reduction reduction reduction reduction reduction reduction reduction reduction reduction reduction reduction reduction reduction reduction reduction reduction reduction reduction reduction reduction reduction reduction reduction reduction reduction reduction reduction reduction reduction reduction reduction reduction reduction detector detector detector detector detector detector detector detector detector detector detector detector detector detector detector detector detector detector detector detector detector detector detector detector detector detector detector detector detector detector detector detector detector detector detector detector detector detector detector detector detector detector detector detector detector detector detector detector detector detector detector detector detector detector detector detector detector detector detector detector detector detector detector detector detector detector detector detector detector detector detector detector detector detector detector detector alpha alpha alpha alpha alpha alpha alpha alpha alpha alpha alpha alpha alpha alpha alpha alpha alpha alpha alpha alpha alpha alpha alpha alpha alpha alpha alpha alpha alpha alpha alpha alpha alpha alpha alpha alpha alpha alpha alpha alpha alpha alpha alpha alpha alpha alpha alpha alpha alpha alpha alpha alpha alpha alpha alpha alpha alpha alpha alpha alpha alpha alpha alpha alpha alpha alpha alpha alpha alpha alpha alpha alpha alpha alpha alpha alpha alpha alpha alpha alpha alpha alpha alpha alpha alpha alpha alpha alpha alpha alpha alpha alpha alpha alpha alpha alpha alpha alpha alpha alpha alpha alpha alpha alpha alpha alpha alpha alpha alpha alpha alpha alpha alpha alpha alpha track track track track track track track track track track track track track track track track track track track track track track track track track track track track track track track track track track track track track track track track track track track track track track track track track track track track track track track track track track track track track track track track track track track track track track track track track track track track track track track track track track track track track track track track track track track track track track track track track track track track track track track track track track track track track track track track track track track