Day by Day -- India-Nepal-Tibet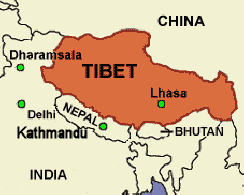 July 15. Depart with American Airlines from Minneapolis via Chicago to Delhi, India.

July 16. Check in to a centrally located hotel where you can walk or take inexpensive motorcycle rickshaws to a variety of sites such as Gandhi's memorial and Jamma Masjid Mosque.
July 17. Train or bus to Agra to see the Red Fort and one or more Mogul architectural masterpieces. Back to Delhi the same day.
July 18. Overnight train to Pathankot (skirting the Pakistan border) followed by a bus to Dharamsala, India, the city of the temple of the Dalai Lama. There we will stay at the Pemathang hotel which has spectacular views of the Himalayas.
July 19 and 20. The Dalai Lama's temple. Introductions to an organization called Volunteer Tibet. These folks will arrange volunteer activities for us. They will also arrange trekking, sightseeing and learning sessions in the area. In the evenings we will gather for dinner at one of the great restaurants to talk about our experiences and plan the days ahead.
July 21-31. A ten-day service project will involve teaching English to Tibetan refugees, especially young Tibetan monks. They are eager to have this practice and would love students who can talk about anything such as their families, school, travels, beliefs. We are planning to ask the monks a series of questions to gather their stories and find out why they have chosen to become monks. These conversations and friendships with young men in their early 20's may well be the highlight of our trip. Dharamsala is itself a very exciting place for young people with many very inexpensive but good restaurants with fabulous views and a wide variety of travelers and seekers. The Norbulinka monastery and craft center, the Tibetan nuns monastery, and many other sights will definitely fill the time. Pilgrims are everywhere as this is the center of the Tibetan government in exile and the heart of the efforts to settle refugees. The Tibetan Children's Village school provides opportunities for students who want to come and volunteer for three months or longer.
August 1. Back to Delhi and a day back in the hotel which will look familiar and welcome. Students could store clean clothes and make a switch at this point for the trek to Nepal and Tibet.
August 2. Flight to Katmandu, Nepal, where we will stay at the Katmandu Guest House in the heart of the old city. Tour parts of the city by foot. This city has plenty to do for college students as Dharamsala. We will have time for altitude adjustment and get visas for Tibet. We can also trek out into the valley and even set up volunteer work with the environmental organizations there.
August 3-10. Fly around Mount Everest to Tibet and spend time in the capital city of Lhasa. Visits to the Jokhang temple – the most important temple for Tibetan Buddhists. Here we will also see the first Buddhas brought to Tibet when Tibet first became Buddhist. Possible two and three day trips to the Tibetan country villages and monasteries and to the Everest base camp.
August 11 -15. Start the trip home through Katmandu, Delhi and return to Chicago on August 15th.